Balearic Islands Map & Where To Find Them
The map below displays the main islands that form the Balearics. So where are the Balearic Islands and how many islands are there? The Balearics lie 300 kilometers off the eastern coast of mainland Spain. There are 4 main islands in total with over 100 tiny islets which form this archipelago.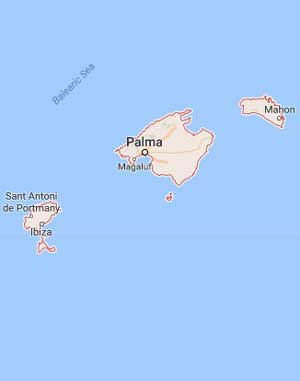 Balearic Islands Names
Majorca
Menorca
Ibiza
Formentera
Largest Balearic Island
Majorca is by far the largest of the Balearic Islands with a land mass of 3,640 km². Majorca is also the biggest of the Spanish Islands. This also includes the Canary Islands in the Atlantic Ocean.
The population of Majorca is around 850,000 inhabitants. Over 400,000 of the total population live in the capital city Palma de Mallorca which is also the capital of the Balearic Islands.
The second largest Balearic Island is Menorca which has a land mass of 696.7 km². Menorca has a population of around 100,000 inhabitants.
Smallest Balearic Island
The smallest of the Balearics by quite some way is the island of Formentera. This tiny island has a land mass of 83.24 km² and a population of 9,500 inhabitants. The population is also the smallest of the main Spanish Islands.
Formentera also has the smallest land mass of any of the major Spanish islands.
Ibiza is the second smallest with a land mass of 571.6 km². The population of Ibiza is around 130,000 inhabitants.