Ibiza is perhaps the best known internationally of all the Spanish islands. Famous for it's nightlife and party atmosphere, Ibiza attracts millions of tourists to it's shores every year.
This popular island is commonly referred to as "Eivissa" which is it's official name in the Catalan language. Ibiza's coastline is relatively small which stretches just over 150 km, there are currently around 130,000 permanent inhabitants here.
Resorts in Ibiza
There are over 20 popular resorts in Ibiza dotted along the coastal areas and also more inland. Many of these resorts are actually small towns and villages which come alive during the summer months. San Antonio is probably the best known because of the wild party atmosphere and vibrant nightlife. There are many other excellent resorts which are much quieter and ideal for a relaxing holiday such as Es Caná and Santa Eulalia. Most of the nightlife is concentrated in the southern and western regions of the island. The northern and eastern coastal areas are where most of the quieter resorts and villages are located.
San Antonio – Sant Antoni de Portmany


Sant Antoni de Portmany is what we commonly refer to as San Antonio, a lively resort located on the western coast of the island. San Antonio bay is famous around the world for it's legendary sunsets and nightlife. Café del Mar bar is of the top spots here, especially for enjoying the sunset. This bar does not open until 4pm normally and stays open open 12pm the following day. Popular areas for nightlife include the Sunset Strip and West End.
Es Paradis is one of the top clubs in the area which is famous for it's water parties and securing the services of some of the best electronic DJ's on the planet.
San Antonio Bay is extremely popular for water sports and water activities. Jet-skiing, parasailing, speedboats and sailing are possibly the pick of the water fun on offer here.
Most of the clubbers tend to head to S'Arenal beach which is close to Es Paradis and the centre of town. There are five smaller beaches located around San Antonio bay which are more family friendly and away from the noise.
Santa Eulalia


Santa Eulalia is the third largest resort in Ibiza and perfect for family holidays. This part of the eastern coast is much quieter and does not have the hectic nightlife of other resorts.
Santa Eulalia Beach and Platja des Riu (Mariner's Beach) are the two main beaches located here. Santa Eulalia Beach has a length of 300 metres and a average width of 20 metres. Mariner's Beach is slightly longer at 400 metres and quite a bit wider with an average width of 90 metres.
Puig de Missa church is perhaps the top attraction in Santa Eulalia. This beautiful old church was constructed in the 16th century but has been re-developed several times in it's long history. Puig de Missa offers stunning views of the resort and surrounding resorts and villages.
Acrobosc is an excellent outdoor attraction for children and adults. Ropes and zip-lines are suspended between the trees which provide different activities and varying levels of difficulties. Normally you get a few hours per entry to negotiate the different obstacles.
Things to do in Ibiza
It's no secret that the biggest contributory factor to Ibiza's popularity is the nightlife but there is plenty more to enjoy here. This island has a rich history and culture along with some magnificent beaches and attractions. Below we list some of the top attractions and things to do when visiting Ibiza.
Es Vedra


Es Vedra is a huge rock located 2.5 km off the southwest coast of Ibiza. This natural attraction is actually considered an island which is uninhabited and can be seen by visiting Cala d'Hort beach. Conspiracy theorists associate Es Vedra with mystical magnetic properties and even an underwater UFO base.
The reality of course is very different, according to this wiki article, Es Vedra is little more than a chunk of limestone from the Betica Mountain Range. Seismic activity 155 million years ago caused a break-up of the mountain range which resulted in the formation of the Balearic Islands. Whatever you choose to believe, Es Vedra is a must see attraction and particularly beautiful given the magnificent Ibiza sunsets.
Ibiza Town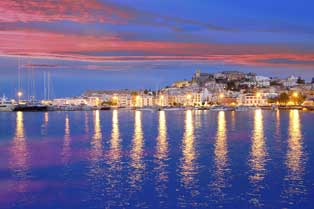 Ibiza is commonly called Ibiza Town which is slightly ironic given the fact that it's actually a municipality and city. Ibiza Town is located on the southeastern coast which is the most populated area of the island with around 50,000 inhabitants. The nightlife here is world renowned with many of the islands best clubs located here. Pacha is probably the best known club on the island which attracts the best DJ's from around the world in summer. The old town is beautiful and the marina adds a touch of luxury to the area. The popular suburbs of Ibiza Town include Figueretas and Talamanca which is where the excellent beaches are located.
Es Caná
Es Caná is a popular village and beach resorts located on the eastern coast of Ibiza. Es Caná is a little more relaxed than the frenetic pace of other resorts but there is still a healthy nightlife to enjoy.
More In The Balearic Islands