Hotels in Ibiza range from no frills hostels offering shared dormitories, to luxurious five star resorts boasting more facilities than a small town.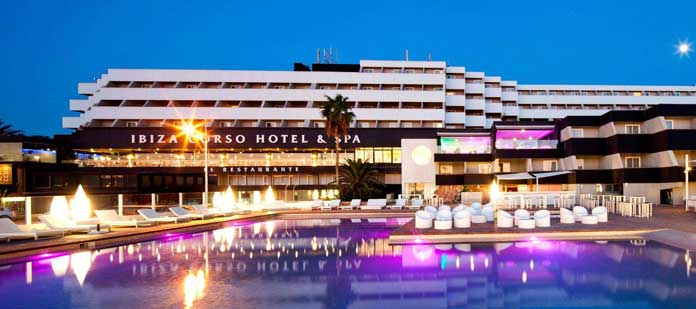 It's all well and good to base your search for accommodation on star ratings, but there really is a lot more to consider. A cheap and cheerful hotel with no star rating in a rural area may offer a swimming pool. Search popular beachfront areas where real estate is prime and you can find three star hotels with no pool.
Hotels in Ibiza To Suit Your Holiday
Yes, the adage of location, location, location rings very true when looking for hotels in Ibiza. Consider first your main priorities when it comes to an Ibiza holiday. This could be proximity to beaches, somewhere that has great nightlife or a family friendly resort that offers loads of fun stuff for the young ones. Going out for meals and drinks each day and night for a large family can cost a fortune. Consider booking an all inclusive hotel and that's everyone sorted.
Dorada Ibiza Suites

Fully equipped holiday apartments and aparthotels are another great alternative for large families and groups. On the other side of the coin are adult only hotels. Groups of over 18's and couples looking to be in the heart of the beach party scene should check out the hotels in the Playa d'en Bossa area. Located front line to the beach, Dorada Ibiza Suites is a great choice. They offer adult only fully equipped and self contained suites. You can enjoy the outdoor pool and terrace, bar, snack bar and restaurant, or just cook for yourself.
Hotel Rural Can Partit


If budget is your main priority when looking for Hotels in Ibiza, try Hotel Central Playa in Ibiza Town. Hostal Adelino is another great value choice in San Antonio. I had best clarify here, 'hostal' is the Spanish word for a budget hotel with private guest rooms, not shared dorms you would find in a 'hostel'. The more discerning visitor looking for a quiet and utterly charming countryside retreat may wish to try the adult only Hotel Rural Can Partit in Santa Agnes de Corona.