Santa Ponsa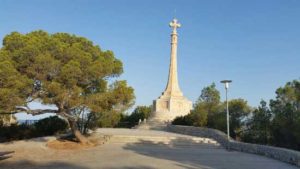 Santa Ponsa is a pretty coastal area located on the west coast of Majorca. This area tends to attract more Irish and Scottish tourists and as a result there is a more Celtic influence here. There are a few sandy beaches here to choose from, Playa Santa Ponsa is one of the better beaches on the island and is close to the shops, bars and restaurants. The water is calm here which makes this beach ideal for swimmers of all ages. Attractions to check out include the Jungle Parc theme park, the old windmill and the Cruz del Descubrimiento monument (picture above).
Explore Majorca Video
The video below is taken from a drone that explores the island of Majorca from the air.
Cala Millor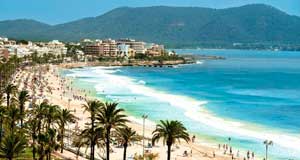 Cala Millor is located in the northeastern area of Majorca and was one of the first established tourist spots on the island. More beautiful coves and creeks line this section of coast land with 8 excellent beaches to choose from. The main beach of Cala Millor is almost 2000 metres in length with an average width of 50 metres. Walking and cycling are particularly popular here with many trails offering stunning views of the eastern coast of the island. There are also many interesting monuments along this strip of coastline and some excellent markets to check out.
Calas de Mallorca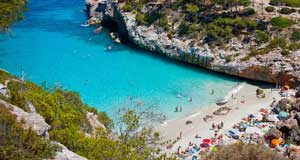 Calas de Mallorca or "Coves or Mallorca" could not be more aptly named, 3 small coves make up this lovely resort. Like Cala Millor, there are many trails for walking to take in the spectacular surroundings. The nightlife in Calas de Mallorca is more vibrant than some resorts with plenty of clubs, bars and restaurants to enjoy. There are also activities for the children with a small zoo and several play areas.
Cala Bona

Cala Bona is located next to Cala Millor on the quieter eastern coast of Majorca. This is where most come to get away from the noise and enjoy a relaxing holiday. A few of the things to check out here are the pretty sandy beaches and marina.
Port de Sóller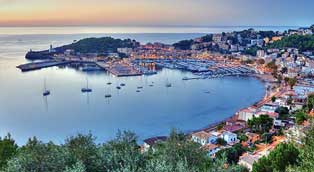 Port de Sóller is a small village and resort located on the northwest coastline of Majorca. Also know as Puerto Soller, this resort is particularly quiet and pales in comparison to the busier resorts. Here you will find a pretty marina and two lighthouses which site on either side of the bay. There are plenty of options for bar and restaurants but do not expect wild nightlife when visiting here.