Majorca is by far the biggest of the Balearic Islands in both land mass and population. Majorca is hugely popular with the German and British nationalities who make up a good chunk of the yearly visitors to this pretty island.


The population here is around 850,000 inhabitants which is the vast majority of the 1.1 million total population of the Balearic's. The population swells during the summer months thanks to the excellent weather and picturesque coastline.
The Beautiful Island of Majorca
The capital city of Majorca is Palma which is where Palma airport is located, Palma also happens to be the biggest city of the Balearic Islands. There are close to 40 different tourist resorts located in Majorca dotted around the beautiful coastline, some being more popular than others. Magaluf, Palma Nova and Santa Ponsa are just a few found to the southwest of the island, to the north are the resorts of Alcudia, Puerto Pollensa and Puerto Alcudia.
Resorts in Majorca
On the eastern coast lie the resorts of Cala d'Or, Calas de Mallorca, Cala Millor and many more. Some top attractions worth checking out in the capital Palma de Mallorca include the Catedral de Mallorca and Castillo de Bellver which dates back to the 13 century. Majorca is full of beautiful coastal towns, picturesque villages and lots of small fishing ports so make sure you have your camera with you when you visit. Below we provide information about some of the best resorts in Majorca.
Magaluf
Magaluf and the surrounding resorts are still the most popular on the island due to the nightlife on offer. Magaluf is definitely more suited to the younger travelers and party-goers although you still get plenty of families visiting during the peak months. Unfortunately the area has grown notorious in recent years due to the well publicised balcony falls and consequent deaths. Away from the controversy, there is still much to like about Magaluf from a tourism point of view. There is a beautiful white sandy beach for bathers and those that enjoy water sports. There are several water and theme parks located close by which includes Katmandu Park and Western Water Park for a fun family day out.
Puerto Pollensa (Port de Pollenca)


Puerto Pollensa or Port de Pollenca as it's known locally is another top resort in Majorca and perhaps among the most beautiful. Puerto Pollensa is the most northern town on the island and boasts excellent beaches and picturesque scenery. The mountainous backdrop of the Tramuntana mountain range overlooks the small port and Bay of Pollença down below.
Alcúdia


Located to the east of Puerto Pollensa is the town and busy tourism resort of Alcúdia. Also a top resort in northern Majorca, the coastal area of Alcúdia stretches for 30 km and is lined with beautiful beaches and coves. This area is particular popular for family holidays and is one of the most historic locations in Majorca.
Palma de Mallorca


The beautiful city of Palma de Mallorca is the capital of Majorca and the Balearic Islands and the home to well over a third of the entire population of these beautiful islands. The stunning Cathedral of Santa Maria of Palma or La Seu (picture above) is probably the top attraction on the island. Located all over this beautiful city are fine examples of historic castles, monuments and amazing architecture. If you want to experience the culture of Majorca then Palma is the place to go.
Palma Nova


Palma Nova is a small town and custom built tourist resort located on the southwestern coastline of Majorca. Palma Nova is one of the more popular resorts thanks largely to it's lively party atmosphere, especially around Punta Balena. This resort is very similar to Magaluf in many ways, famous for it's wild 18-30 holidays when anything goes. Of course this may not be your idea of a good holiday, fortunately there are plenty of tourist attractions such as Golf Fantasia and beautiful white sandy beaches. Another big advantage of coming to Palma Nova is it's close proximity to Palma City which is a short 15 km drive away.
Cala d'Or


Cala d'Or is a beautiful resort full of pretty coves which are miles away from the noisy nightlife. These beaches and coves are known for their turquoise crystal clear waters and paradise-like surroundings. Among the green hills and rocky areas the white houses and buildings add to the beauty of Cala d'Or. The pretty marina and surrounding areas are worth checking out during your visit here.
Santa Ponsa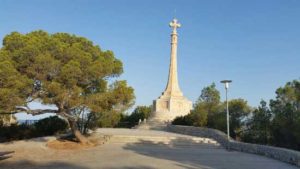 Santa Ponsa is a pretty coastal area located on the west coast of Majorca. This area tends to attract more Irish and Scottish tourists and as a result there is a more Celtic influence here. There are a few sandy beaches here to choose from, Playa Santa Ponsa is one of the better beaches on the island and is close to the shops, bars and restaurants. The water is calm here which makes this beach ideal for swimmers of all ages. Attractions to check out include the Jungle Parc theme park, the old windmill and the Cruz del Descubrimiento monument (picture above).
Cala Millor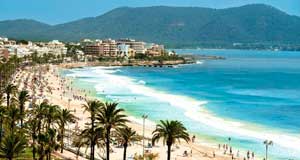 Cala Millor is located in the northeastern area of Majorca and was one of the first established tourist spots on the island. More beautiful coves and creeks line this section of coast land with 8 excellent beaches to choose from. The main beach of Cala Millor is almost 2000 metres in length with an average width of 50 metres. Walking and cycling are particularly popular here with many trails offering stunning views of the eastern coast of the island. There are also many interesting monuments along this strip of coastline and some excellent markets to check out.
Calas de Mallorca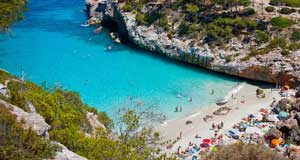 Calas de Mallorca or "Coves or Mallorca" could not be more aptly named, 3 small coves make up this lovely resort. Like Cala Millor, there are many trails for walking to take in the spectacular surroundings. The nightlife in Calas de Mallorca is more vibrant than some resorts with plenty of clubs, bars and restaurants to enjoy. There are also activities for the children with a small zoo and several play areas.
Cala Bona

Cala Bona is located next to Cala Millor on the quieter eastern coast of Majorca. This is where most come to get away from the noise and enjoy a relaxing holiday. A few of the things to check out here are the pretty sandy beaches and marina.
Port de Sóller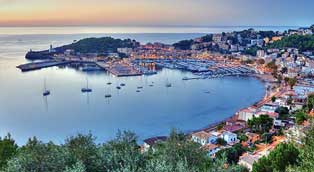 Port de Sóller is a small village and resort located on the northwest coastline of Majorca. Also know as Puerto Soller, this resort is particularly quiet and pales in comparison to the busier resorts. Here you will find a pretty marina and two lighthouses which site on either side of the bay. There are plenty of options for bar and restaurants but do not expect wild nightlife when visiting here.