Lying on Majorca's east coast, the quaint seaside resort of Cala Bona is not at all pretentious, but rather a happy little place boasting clean streets, well tended children's playgrounds, small, family friendly beaches and a promenade perfect for a sunset stroll.



This is a resort where you can enjoy a glass of wine or ice cold beer while watching the boats in the harbour or spend the day on the beach without the noise and crowds of party hard youngsters. Those that have discovered Cala Bona tend to return each year where they are greeted as family by their favourite waiters and restaurant owners, who even remember their preferred tipple.
Cala Bona Beaches & Harbour


Favoured by families, middle aged couples and retirees, Cala Bona offers two small bays next to the harbour and two further beaches, one fronting the Sunwing Resort Hotel and the other fronting the popular Fantasy Park. Lifeguards are usually on duty from May to the end of September and there are facilities such as disabled access, showers, ablutions, sun loungers and parasols. Aside from sailing and the Albatros Scuba Diving Shop, there are no water activities in the resort, making the waters safe for swimmers and children.
Cala Bona Nightlife & Entertainment
Much of the evening entertainment in Cala Bona takes place around the harbour where visitors will find a selection of bars, cafes and restaurants, as well as a further choice of shops and entertainment venues along the beach promenade. The promenade and cycle track that runs alongside are perfectly flat and a pleasure to walk or ride. The resort has a small selection of local bike hire companies, most of which can deliver to your hotel.
For The Children
Children are catered for with several playgrounds, and the larger more exciting Fantasy Park where they can enjoy bouncy castles, trampolines and fun electric go-karts. Not forgetting the adults, there are three golf courses located within a short drive from the resort.
Balearic Islands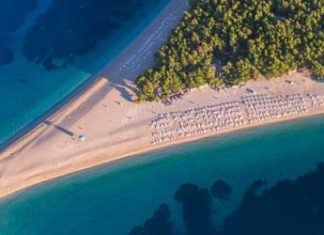 Menorca beaches and its famous coves, lapped by stunning turquoise waters await visitors to this wonderful Balearic island. Like a small child thumbing their nose...