Majorca's seaside resort of Can Picafort lies in the Bay of Alcúdia, and being on the opposite side of the island from Palma is a good 1.5 hour drive from the airport.



It forms part of the municipal district of Santa Margalida and, aside from being a popular choice for German holidaymakers, boasts the largest amount of archaeological sites on the island. So, if you are a history buff with a penchant for strong blondé beer and bratwurst, Can Picafort is the place to head for.
Can Picafort Beaches & Harbour

The resort has a small harbour with a nautical club and several bars and restaurants from which to take in the views while enjoying a drink or meal. Next to the harbour a small headland marks the start of the resorts beaches which boast clean sand and good facilities. Backing the beach all the way to neighbouring Playa de Muro is a further great selection of shops, cafes, bars and restaurants interspersed with hotels and holiday apartments. Playa de Muro beach is one of the longest beaches in Majorca with a length of around 3 kilometres. If you included Can Picafort, the wonderful golden sands of Playa de Muro and further still to Alcúdia, this is one of the longest continuous stretches of beach on Majorca.
Nightlife in Can Picafort


The resort's nightlife mainly revolves around the independent bars along the beach and in the resort's centre, as well as the entertainment venues found within some of Can Picafort's larger hotels. Those wishing to party into the small hours can choose from Skau Nightclub, Trotters bar (picture above) or Discoteca Charly's, and for a good old sing song, the Red Lion features karaoke nights. Aside from beach games and a couple of playgrounds, there is not many activities for the young ones. However, a 20 minute drive along the coast takes you to Alcúdia where all the family will have great fun at the exciting Hidropark with slides, pools and attractions.
Balearic Islands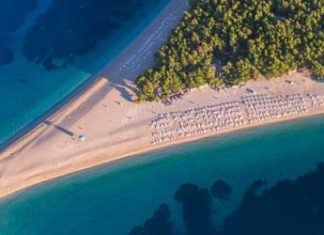 Menorca beaches and its famous coves, lapped by stunning turquoise waters await visitors to this wonderful Balearic island. Like a small child thumbing their nose...