Santa Ponsa is a pretty coastal area located on the west coast of Majorca. This area is particularly popular with the Scottish and Irish tourists and as a result, there is a strong Celtic influence.



Santa Ponsa also welcomes many other northern Europeans such as Germans, Scandinavians and other part so the British Isles. Although not as hectic as some of the busier resorts, this area is extremely popular during the summer months.
Things to do in Santa Ponsa, Majorca
There are a few sandy beaches here to choose from, Playa Santa Ponsa is one of the better beaches on the island and is close to the shops, bars and restaurants. The water is calm here which makes this beach ideal for swimmers of all ages. Attractions to check out include the Jungle Parc theme park, the old windmill and the Cruz del Descubrimiento monument (picture above).
Jungle Parc, Santa Ponsa


Jungle Parc is the top attraction away from the beaches which is the biggest of it's kind in the Balearic Islands. Set in a 9 hectare pine forest in Santa Ponsa, Jungle Parc boasts over 130 different platforms for rope and zip-line activities. There are four different courses or varying difficulty, some designed for youngsters and those looking to have a fun day out. The Extremo course (Extreme Course) will test even the most experience climbers. The Piratas course (Pirates Course) is for children of 4 years and above. Prueba (Test) and Explorador (Explorer) make up the other two courses. Jungle Parc tends to be open to everyone for much of the holiday season but there are times when the park is reserved for groups only. Here you can check out the monthly timetable and opening hours to ensure you do not waste a journey. Tickets prices vary from 14 – 18 € with special offers for multiple courses.
Santa Ponsa Beaches


Santa Ponsa Beach is the main beach located in the area which has a length of 1300 metres and average width of 100 metres. You should have no problem finding space to spend a relaxing day soaking up the sun on this beautiful sandy beach. Santa Ponsa Beach is located in a bay which is protected from the elements, as a result, the water is always calm here with hardly any waves. Swimming is ideal here for people of all ages and there is normally a lifeguard in attendance. Sunbeds and parasols are available to hire with several local bars and restaurants offering drinks and excellent Mallorcan cuisine. Playa des Castellot and Pellicer Beach are much smaller in comparison and located on the outskirts of the resort.
Promo Video
Below is a promotional video from the Jungle Parc website which gives a good indication of what to expect when you visit.
Points of Interest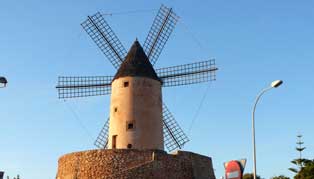 Santa Ponsa Windmill (Molino) was built in 1818 and is one of the many windmills found on the island of Majorca. This particular windmill is located on the outskirts of the resort and was restored in 1971.