Playa Grande, Corralejo, Fuerteventura

Playa Grande (big beach) lies on the northwestern tip of Fuerteventura in Corralejo. This super beach is almost opposite Papagayo in Lanzarote. Corralejo's Natural Park and sand dunes run alongside Playa Grande.
The water here is crystal clear on the shore which becomes darker as it gets deeper. From here there are incredible views of Isla de Lobos. Playa Grande is so vast that you are unlikely to worry about finding a spot to bathe. There is up to 10 km's of beach to relax during your holiday. Regular boat trips leave from Corralejo if you want to visit Isla de Lobo in Lanzarote.
Playa Las Canteras, Gran Canaria

Playa Las Canteras in Gran Canaria is without a doubt one of the top Canary Islands beaches. This beautiful urban beach lies in the capital Las Palmas de Gran Canaria. Las Canteras has a length of 3100 metres and an average width of 50 metres.
This super beach makes up most of the northwestern tip of Gran Canaria. A beautiful promenade runs alongside Las Canteras with many businesses. The city of Las Palmas also adds to the appeal of this beach. Most of the top beaches in the Canary Island belong to resorts far away from major cities.
Maspalomas, Gran Canaria

Maspalomas is another super beach belonging to the island of Gran Canaria. This beach is extra special because of the sand dunes that run behind. The sand for Maspalomas beach extends for 2700 metres. Playa del Inglés is a further extension of this already massive beach. To the north of this beach is Maspalomas resort which is always popular with tourist.
Maspalomas beach is one of the top naturist beaches in the Canary Islands. Many that like to shed their clothing will head to the sand dunes. When you see the camel rides you could be forgiven for thinking you are in the Sahara Desert. One section of Maspalomas is popular with gay tourists. The island generally has quite a vibrant gay scene and has done for several decades.
The location of Maspalomas is ideal if you want to visit some of the other popular areas. The resort of Playa del Inglés is right next door with Meloneras and San Agustin close also.
Las Teresitas, Tenerife
Most of the beaches in Tenerife are black volcanic sand but there are some exceptions. The super Las Teresitas is one of the top beaches with artificial sand. Like many of the Canary Islands beaches, Teresitas relies on the Sahara for it's sand.
This does not detract from the beauty of this beach in the capital Santa Cruz de Tenerife. This is the only beach with white sand in the whole of Tenerife. It's also by far the most popular with more visitors than any other. Las Teresitas has a length of 1300 metres and an average width of 80 metres.
Playa de Puerto Naos, La Palma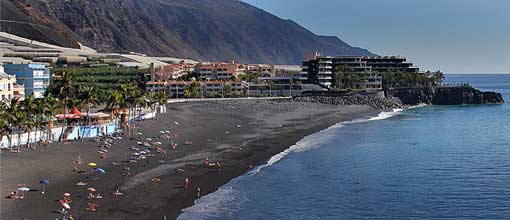 We wanted to try and represent all the main islands in this article and this is the pick for La Palma. Playa de Puerto Naos is the top beach by miles on the pretty island of La Palma. This beach boasts some of the most incredible sunsets in the Canary Islands.
The black volcanic sand of Playa de Puerto Naos may not be as attractive but do not let that mislead you. This little fishing village is one of the most beautiful places on the island. The surrounding mountains and palm trees only add to the appeal of this super location.
More Super Canary Islands Beaches
We have put some links in to separate pages which go into more detail about each resort. These pages also provide more information about the best beaches to check out.
Playa Grande, Puerto del Carmen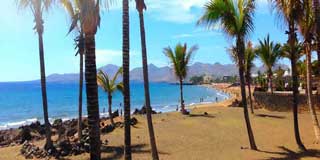 Playa Grande is the top beach in Puerto del Carmen in Lanzarote. This beach is 1200 metres in length in a super location. The popular Puerto del Carmen resort is one of the top tourist locations in Lanzarote. The main beach is well worth a visit the next time you are here.