The magnificent Lanzarote beaches and the super all year climate are two of the principal reasons why this island attracts so many visitors each year. The beautiful island of Lanzarote boasts over 100 beaches ranging from golden sand to the black volcanic sand variety common to the Canary Islands.


The Top Lanzarote Beaches
Many of the best Lanzarote beaches are found at the popular tourist resorts but there are many hidden gems that are located off the beaten track also. In the extreme south of the island there are some fantastic beaches in Playa Blanca and the resort of Puerto del Carmen. On the eastern coast north of Arrecife airport there are more wonderful beaches in Costa Teguise and many more dotted around the northern areas of Lanzarote.
Papagayo Beach


Papagayo Beach is perhaps the most beautiful of all the Lanzarote beaches, shaped like a crescent moon and surrounded by cliffs. Papagayo is located on the southern tip of the island just east of Playa Blanca. Papagayo is actually a series of beaches and coves with the main beach the last of the series. Unless arriving by foot, you will probably have to pay to arrive either by the dirt track or the water taxi. Driving will take you 15 minutes from Playa Blanca via the dirt track and cost 3 € which includes parking near the beach. The Princesa Yaiza water taxi will cost you 15 € for a return ticket from Playa Blanca. From this super beach you will be able to see the tropical Isla de Lobos (Wolf Island) and Fuerteventura located south of Lanzarote.
Playa Blanca Beach

Number two on our list of best Lanzarote beaches is Playa Blanca Beach, Playa Blanca is the southernmost town in Lanzarote and the newest resort. This popular resort is located 45 km from Arrecife airport and was the first to have a dedicated bus service. Playa Blanca beach (White beach) is one of the smallest beaches in the town but it's still a favourite due to everything else you have going on here. The water is notably calm on the southern coast making the clear turquoise water ideal for diving and swimming. This beach is equipped with showers and hammock and parasol rental services are available also. The pretty promenade is lined with bars and restaurants and allows access to several other local beaches.
Puerto del Carmen Beach – Playa Grande


Playa Grande or "Big Beach" is the main beach in Puerto del Carmen which gets it's name because of it's size. Although not the biggest beach in Lanzarote, Playa Grand still has a length of almost 1200 metres. The disabled facilities and general beach facilities are possibly the best of any of the Lanzarote beaches. The promenade which runs adjacent has more bars, shops and restaurants than any other beach on the island. The water here like much of the southern areas is calm but there are still lifeguards in attendance. This is possibly the best known urban beach in Lanzarote so expect this beach to be busy when you visit. There are many rental services on Playa Grande such as sunbed and parasol rentals available.
Costa Teguise Beaches


There are actually 4 magnificent beaches in Costa Teguise to choose from with the most popular and centrally located being Playa Cucharas (Spoons Beach). Playa Cucharas is popular with both sunbathers and the windsurfers with a portion of the beach regularly cordoned off for windsurfing. The main Costa Teguise Beach is not the biggest but it's certainly one of the busiest along the eastern coast of Lanzarote. Rentals of parasols and sunbeds among other facilities are available while the restaurants and bars are just a few minutes walk away. The other Costa Teguise beaches include Playa Jablillo, Los Charcos, Playa Bastian and Playa Ancla.
Playa de los Pocillos


Playa de los Pocillos is another beautiful sandy beach located to the east of the popular Puerto del Carmen resort. Playa de los Pocillos is possibly the best beach located in this part of Lanzarote and perhaps the island. This beach has a length of just over 1200 metres and an average width of 150 metres. This beach is equipped with excellent facilities and disabled access with easy access to the beautiful promenade and surrounding shops, bars and restaurants. The water is particularly calm here but nonetheless there are lifeguards keeping a close eye on proceedings.
Famara Beach

Playa Famara is located in the northwest of the island and probably the most popular beach for surfing and windsurfing. Famara beach is a vast bay that is surrounded by cliffs and little else a apart from the Atlantic Ocean. The bungalows built above Famara are largely occupied by Scandinavian Expats, in particular Norwegians. The village of La Caleta de Farmara is where you can find the bars and restaurants. This beach is more suited to those who enjoy water sports and attracts many professionals to train. Although many that come here arrive for the sports, Famara is worth a visit for it's spectacular beauty alone.
Lanzarote Beach Activities
With so many top resorts and magnificent beaches on this beautiful island it's only natural for there to be plenty of beach activities to enjoy. Below we provide some of top things you can experience when visiting the Lanzarote beaches.
Lanzasurf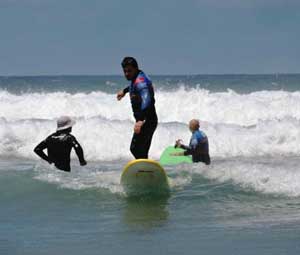 Lanzasurf offer some excellent opportunities to either learn how to surf or participate in one of their many fitness programs such as yoga or fitness training. Lanzasurf even offer Spanish courses if you would like to improve your Spanish. Obviously this company specialise mainly in either teaching you to surf or improving on your surfing technique. The surfing courses include packages for 1 day, 3 days and 5 days with private lessons available also. You can purchase a day course from as little as 55 euros or hire a board for 15 euros per day.
Surfing in Lanzarote
Below is a promotional video for big wave surfing in Lanzarote.