Las Piramides Resort is located in Playa de las Américas on the southwestern coastline of Tenerife. This area is known for it's vibrant nightlife so if you are looking for a quiet holiday then this is not the place for you.


Las Piramides Resort is made up of 366 rooms in total ranging from 1-2 bedrooms and studio apartments. We actually stayed here in March 2016 and were perfectly happy with just about everything despite reading some terrible reviews. The general consensus of virtually everyone we met and spoke to was that this hotel provides great value for money and you get exactly what you are paying for.
Las Piramides Resort Reception Area & Bar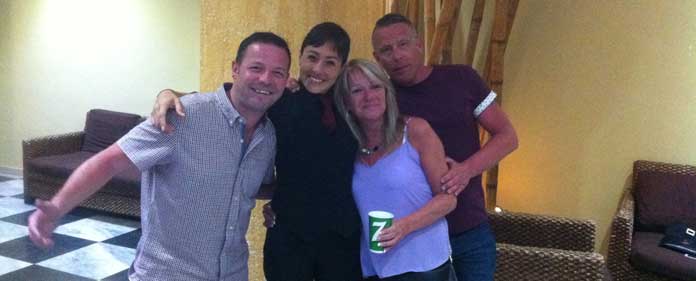 As you walk into the main entrance there is a big reception area and welcoming staff waiting to check you in and provide you with your room key. Opposite the reception there are computers to access the internet and various machines to purchases room extras and snacks. To the right of the computers is a fully stocked supermarket that caters for just about anything you could need during your stay. The shop stocks all types of food and snacks along with normal and alcoholic drinks. Passing through a small corridor next to the shop there is a lovely bar and entertainment area and friendly bar staff waiting to take your drinks order (Image above, far left is author Wes Dunn). Adjacent to the bar there a smaller bar which serves drinks to the people outside around the pool area.
Las Piramides Resort Restaurant & Pool Area


The restaurant is found on the lower level and provides 3 excellent meals each day, this includes Continental, Spanish and English breakfasts and cuisine. The food was one area where Las Piramides really excelled, there was always a good choice of delicious food available for each meal. Apart from the actual building structure that could probably do with a paint, The inside and outside of this hotel is immaculate and the rooms were lovely and clean. All upper levels are reachable from one of the many lifts in this hotel so no stairs to negotiate if you are not up to it.  Outside there is a main pool and a smaller pool to the right. The staff here do an excellent job in keeping everyone entertained both during the day and the evenings when there is normally some sort of live entertainment.
Outside Las Piramides Resort & Nightlife


The first thing you see as you exit the main entrance is Mount Teide Volcano which dwarfs Las Piramides resort. Within a minutes walk there are tons of bars, restaurants and all types of shops along the main strip. As we mention above, this area is more suited to those who like to party a little with all the top bars, restaurants and clubs no more than a five minute walk from this Las Piramides Resort.
Conclusion
For value for money, this is an excellent all inclusive hotel in Tenerife with the party atmosphere in close proximity. Perhaps the only down side is the shape of the building which is quite ugly and tends to have the inner apartments facing each other with no spectacular views on offer. That being said, when you are on a budget and in Tenerife, who really cares what sort of view you are getting from your hotel.
Las Piramides Swimming Pool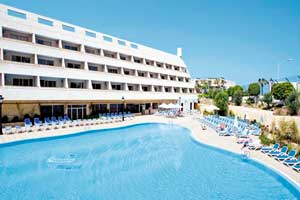 The main swimming pool for Las Piramides Resort is located just outside the bar area and is lined with sunbeds on all sides. You will need to be up early to grab a sunbed but if all else fails you will probably find one by the smaller pool which is not as busy.