The skyline of Tenerife is dominated by the awesome Mount Teide volcano, the third biggest in the world when measured from it's base.



Teide is the highest point in the whole of Spain standing at an impressive 3,718 metres above sea level. Only the volcanoes found on the islands of Hawaii have higher points than Mount Teide in Tenerife.
The volcano is the focal point of the Teide National Park along with it's 10 mile wide crater. This national park is one of the four to be found in the Canaries and a protected Unesco World heritage site. Teide National Park is not only the most visited National Park in Spain but also the whole of Europe. The volcanic eruptions from this active volcano throughout history have created some of the most unique rock formations you are likely to see anywhere in the world.
Mount Teide Volcano Hiking & Cable Car


Hiking is obviously a popular activity here but you will need to purchase cable car tickets in order to enjoy the best routes on offer. Route No. 10 (Telesforo Bravo) for example will take you to crater of Mount Teide and to the highest peak in all of Spain. Route No. 11 will take you to La Fortaleza Vantage Point and Route No. 12 to the Pico Viejo (Old Peak) Vantage Point. All routes and vantage points will treat visitors to some of the most amazing vistas of the Canary Islands. The atmospheric conditions often create a sea of clouds as shown in the image above which can be mesmerising. Sunrise and sunset are the most popular times to visit due to the atmospheric conditions which can change the skyline to a vast array of beautiful colours.
Mount Teide Volcano Ticket Prices
Prices can vary depending on the session you book but the standard price is 27 € return and 13.50 € for children from the cable car website which also provides a timetable. You can also book single tickets if you prefer to hike back down the mountain and take on more of the spectacular views on offer. It's important to point out that in order to reach Pico del Teide you will need to apply for a free permit from the National Park Reservation website but you must ensure you provide plenty of notice to allow time for your permit to be processed.
Tenerife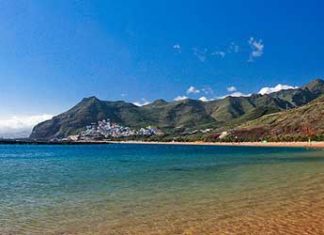 This article takes a closer look at some of the top attractions and things to do in Tenerife. All information provided is based on...
Mount Teide Facts
The last volcanic eruption was in 1909 at the Chinyero vent on the Santiago Ridge.
Tenerife was built by accretion of three large shield volcanoes which took somewhere around 8 million years to form the entire island.
Columbus reported seeing a "great fire" as he sailed past Tenerife on his journey to discover the new world in 1492