Puerto de la Cruz is a small city and popular tourist destination located on the northwestern coast of Tenerife in the Canary Islands. This traditional Canarian part of the island has remained one of the top spots for tourism for several decades and continues to thrive.


Puerto de la Cruz
The population here has been increasing steadily over recent years and now stands at somewhere around 30,000 inhabitants.
Puerto de la Cruz was originally known by it's English name "Port of the Cross" but is now universally known worldwide by it's Spanish equivalent. Developed as a port for the lucrative sugar and wine exportation industry for the La Orotava region, Puerto de la Cruz became the first established tourist resort in the Canary Islands. This popular tourist destination is part of the province of Santa Cruz de Tenerife which is located 30 kilometres to the east.
Puerto de la Cruz Tourism

During our visit to Puerto de la Cruz in March 2016 it was noticeable how much this city varies from other areas of Tenerife and seems to retain it's own Canarian identity and character. The landscapes in this region are lush green with several important botanical gardens and many more fruit plantations. The importance of tourism is evident with the many hotels that dominate the skyline such as H10 Tenerife Playa and Hotel Puerto de la Cruz. Tenerife as a whole attracts up to 5 million visitors per year across it's many top resorts with several hundred thousand heading to Puerto de la Cruz for their holidays.
Top Attractions & Things to do in Puerto de la Cruz
Puerto de la Cruz is the location for Loro Parque (Parrot Park) which is one of the top 3 attractions in Tenerife. Loro Parque is less than 5 kilometres to the west, a few minutes south of Punta Brava. Below we go into more detail about some of the best attractions and things to do in Puerto de la Cruz during your visit.
Loro Parque – Parrot Park


The popular Loro Parque opened in December in 1972, quickly becoming one of the top attractions in Tenerife. When opened originally, the park had only 150 parrots, Loro Parque now houses over 350 different species and over 4000 parrots. You can find out more but visiting our Loro Parque article which goes into more details about what's on offer here.
Botanical Gardens – Jardín Botánico


The Botanical Gardens or The Garden of Acclimatization of La Orotava which it's commonly referred is one of the largest botanical garden in Spain. The Botanical Gardens house over 1500 different species of Canarian plants and trees over an area of 7 acres (around 30,000 Sq ft). These gardens are a tropical oasis lined with palm tress, water fountains and a beautiful assortment of Canarian flora. Most people that visit the gardens spend several hours here and still leave plenty to discover when they visit a second time. The Botanical Gardens began planting in 1792 to acclimatise plants from the tropics making it the second oldest of it's kind in Spain. We have managed to find an excellent Botanical Garden Photography site which contains some stunning imagery of these particular gardens and the various species on display.
Weather in Puerto de la Cruz


The weather in Puerto de la Cruz is excellent all year round although normally a little cooler than the southern parts of the island. The warmer summer months are usually between June until September with an average temperature of 24 Celsius. There is little rainfall during the summer months. The colder months tend to be November, December and January when there is also significantly more rainfall. The average Sea temperature only drops below 20 Celsius in February and March when the Sea is 19 Celsius.
Canary Islands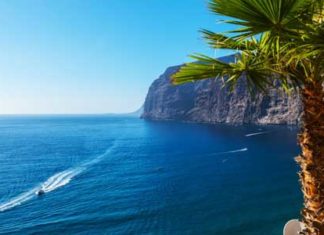 Guide to the 7 islands that form the Canaries located off the south west coast of Morocco and the African mainland in the Atlantic Ocean.
Lago Martiánez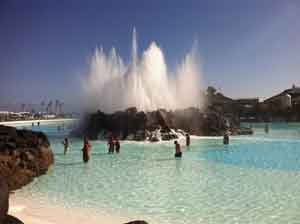 Lago Martiánez (Martiánez Lake) is a leisure complex and water park that covers an area of around 100,000 square metres. The central focal point is an artificial lake whose water comes from the Atlantic Ocean outside the complex. Surrounding the main lake are a set of swimming pools, restaurants, gardens, and terrace areas. Also dotted around the complex are fine sculptures from a celebrated artist from Lanzarote.