With more than 200,000 trees, and another 50,000 in the nurseries waiting to replace the current trees,  El Palmeral is the largest of it's kind in Europe. This is no ordinary tree plantation, El Palmeral is part of the history of Elche which dates back over 1000 years to when much of Spain was under Moorish rule.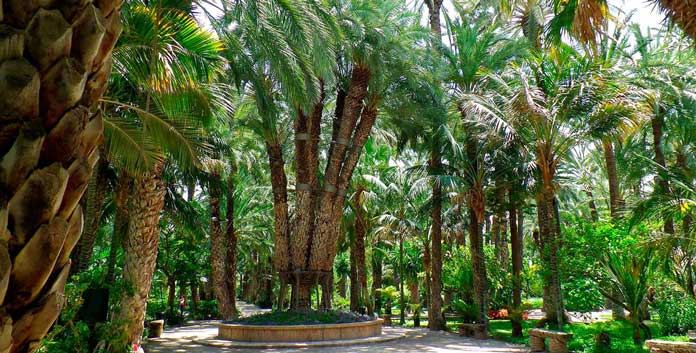 The Palm Groves Of Elche
From an aerial view, this majestic place appears to be a forest but is in fact a cleverly laid our grid system of trees. The palm trees are planted in smaller plots of land which are referred to as "Huertos" (Orchards) with some white palms being sold throughout Spain and some overseas countries. According to this article on the official tourism website, a good percentage of the worlds palm trees were wiped out during the previous Ice Age with the exception of some of the warmer places such as Elche and the Middle East. It's important to point out that date palm fruits that grow here have been an important staple food that dates back to at least the 3rd – 1st Century BC when the Romans settled here.
City Groves


When visiting Elche tourists have no need to even leave the city to appreciate the beauty and tranquility of the groves as there are some fantastic parks and gardens to explore within the city itself. The splendid Huerto del Cura gardens have a large selection of cacti and other plants and trees. There is also a well laid out 2.5km walking route enabling visitors to enjoy the magnificence of the palm groves of Elche. The route starts at the Huerto de San Placido where the Palm Grove Museum is housed in a splendid 19th century building. The museum offers visitors all sorts of fascinating historical facts on the origins and development of the palm groves.
El Hondo Nature Reserve


The district of Elche covers approximately 325 square km with the landscape extending from the hills and mountain ranges to the coastal sand dunes with the salt marshes and wetlands in-between. El Hondo Nature Reserve is part of a lagoon area and is made up of a mix of salt marshes, ponds and palm groves. There is an abundance of wildlife with around 170 different species of birds including herons, flamingos and various types of duck as well as all sorts of fish and eels. Elche is the perfect place to be if tranquility and peace are on your agenda, so for a relaxing day out be sure to visit the palm groves of Elche and it's other great attractions.