La Zenia Boulevard is simply breathtaking and must be seen to be fully appreciated when you visit the popular resort of La Zenia.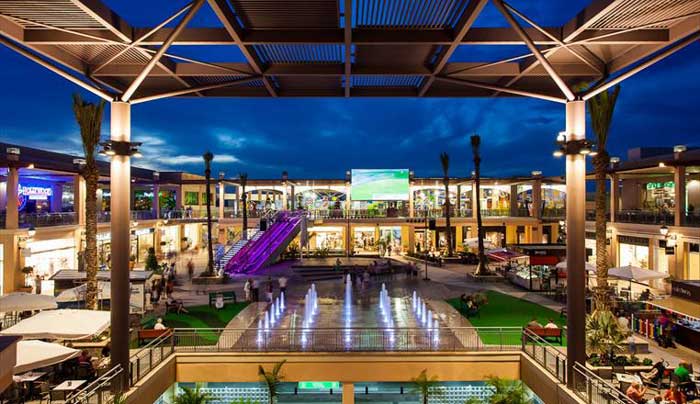 La Zenia Boulevard Shopping Centre, Orihuela Costa
Zenia Boulevard houses over 150 of the finest shops imaginable where you can find just about anything your heart could desire. This amazing shopping centre has been warmly received while providing thousands of jobs to the local community. Many more have moved to area as a result and the general profile of the La Zenia has been raised significantly.
Car Park & Construction


When visiting La Zenia Boulevard it's quickly apparent what magnificent architectural work has been created during the construction. Everything is beautiful including the underground car park which has multiple entrances and exits with the capacity to house somewhere around 5000 cars. The car park contains lots of handy symbols, numbers and colours on the walls and pillars to help you remember where you parked your car. These pillars also help you find the shop, business or service you are looking for.
La Zenia Boulevard Shops On Ground Floor
Upon exiting the car park via the escalators or lifts, you reach the ground floor of this spectacular shopping centre where no expense has been spared. This floor is where you can find most of the shops, the children's playground, an entertainment area and a huge LCD television screen which shows sporting events, concerts, news and documentaries. Every aspect of this shopping centre is immaculately kept and contains around 90 different species of vegetation and plantation. All green areas and plantation are arranged beautifully and lovingly cared for on a daily basis.
Boulevard Shops & Brands



There are far too many shops to name, but some of the main shops include, Decathlon, Leroy Merlin, Al Campo, Media Markt, Conforama and the popular Primark (picture above). Like most shopping malls, La Zenia Boulevard contains shops for just about anything including,  Supermarkets, Men's & Women's fashion & accessories, Shoes, Lingerie, Sports, Opticians, Jewellery, Perfume, Heath & Beauty, Home Decoration, Electronics and much more. During the hot summer months, keeping cool is very important and La Zenia Boulevard does not disappoint. The square contains a beautiful water fountain and the shops have a unique system of spraying a fine mist of water as you pass, cooling you down and refreshing you to continue your progress in this shopaholics utopia.
Restaurants & Boulevard Upper Level
We have already touched on the amazing tranquility and beauty of La Zenia Boulevard but only the inside of the complex. Many parts of the shopping centre offer amazing views of the Mediterranean Sea. This is also true for plenty of the bars and restaurants located on the upper level. Enjoying a fantastic meal or some drinks in one of the great establishments is just the start, imagine dining at a restaurant, having views out to the sea while listening to the entertainment provided from the square below.
Casino Mediterraneo

Those who are feeling lucky can slip down to the Casino Mediterraneo (Inauguration picture above) and chance their arm on the tables. The Boulevard could not be better located for many of the other vibrant suburbs on the Orihuela Costa, most late night bars can be reached in only a few minutes by car, Playa Flamenca CC, Via Park I & II and the popular La Zenia can all be reached after a short walk.