The popular beach resort of Punta Prima is situated just a few kilometres from the city of Torrevieja on Spain's fantastic Costa Blanca. The area boasts some beautiful coastline with a mix of sandy beaches, rocky coves and pine forest lined dunes which are customary on the Orihuela Costa.
Punta Prima Nautilus & Coastline
The most recognisable landmark on the Punta Prima beach has to be the impressive Nautilus restaurant, occupying a privileged position directly overlooking the beautiful Mediterranean sea.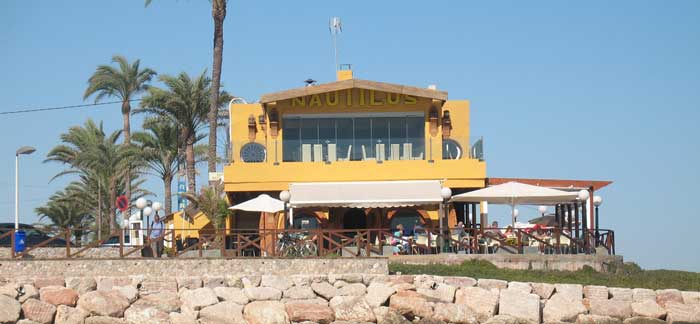 This busy restaurant offers an extensive International menu and a mouthwatering choice of fresh local seafood and cuisine. The views to the north encompass the city and port of Torrevieja, whilst the views south take in the popular Sunrise beach bars and neighbouring resort of Playa Flamenca.
All the resorts along this lovely stretch of coastline are linked by a picturesque coastal path. The coastal path is easily negotiable with sandy stretches, wooden and paved walkways, and promenades reaching from Campoamor in the south all the way to Torrevieja in the North. Many visitors to Torrevieja from Punta Prima choose this path rather than driving, as it allows the chance to take in the beach and sea views and also saves the hassle of finding parking in the congested streets of Torrevieja.
Punta Prima Beaches & Sand Dunes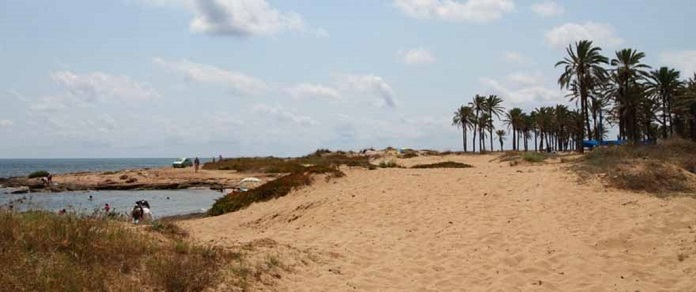 Punta Prima's beaches are regularly awarded Blue Flag status and offer visitors amenities such as sun loungers & parasols, beach sports facilities, showers and WC's. The inlets and rocky coves of the area are a favourite hang out with the local fishermen. Usually a friendly crowd, they are only too happy to advise on the best bait or weather conditions, and if you impress them with your "Spanish" may even reveal some of their secret fishing spots.
Snorkelling is also popular here, with some good reefs to explore and even the possibility of a bit of spear fishing ( licence required ) or Sea Urchin hunting ( gloves required ). A couple of blocks behind the Nautilus restaurant, running parallel with the N332 dual carriageway is the Punta Prima Strip. A collection of shops, cafes, bars and restaurants frequented by an equal mix of locals and holidaymakers enjoying an eye widening Espresso or ice cold beer.