The curative nature of mud bathing was discovered thousands of years ago and has been used all over the world to help cure many ailments. Certain types of mud and clay contain high amounts of silica, potassium, magnesium, sulphur and calcium, minerals known to be beneficial in assisting to heal the body.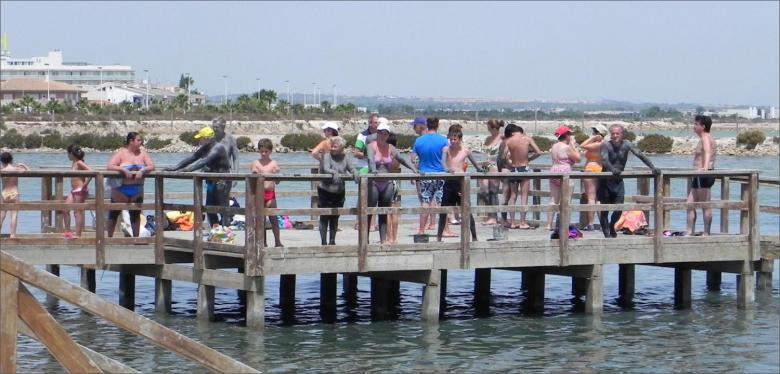 Mud Bathing In La Manga del Mar Menor
Even the father of traditional medicine, Hipocrates, used these in many of his treatments. The benefits of mud bathing in Mar Menor are vast and can help cure or relieve such ailments as arthritis, gout, rheumatism, broken bones, ulcers, sores and even acne to name just a few. Applied to the skin, the mud absorbs damaged tissue and toxins whilst cooling and soothing the skin.
The Mar Menor Lake


Referred to by many as an inland sea, the La Manga del Mar Menor is actually a vast salt lake near the town of Lo Pagan and connected to the sea by fishing canals. For mud bathing in Mar Menor the best part to visit is the far North of the lake where the mud is known locally as La Puntica. Due to it's high levels of salt and long hours of sunlight, the mud in this area is rich in beneficial minerals. It is best to visit the lake in the warmer months, thus allowing the sun to dry the mud quickly. Either apply the mud by hand to affected areas or as some like to do, apply to the whole body. Allow the mud to dry then wash it off in the salt water of the lake. If you have not experienced mud bathing in Mar Manor before, it's a good idea to coat just a small area of skin first and leave for about 30 minutes to make sure your skin doesn't have a bad reaction.