The Province of Murcia is one of largest and most populated in the whole of Spain. Murcia is currently the seventh biggest Spanish City with around 500,000 inhabitants in the City alone, this makes up around a third of the population of the whole region.

Province of Murcia & Costa Calida
The coastal area of the Costa Calida or "Warm Coast" in English is part of the Province of Murcia which sees millions of visitors every year. There are many popular tourist locations on the Mediterranean coastline which include, Aguilas, Cartagena, Los Alcazares, Mar Menor and La Manga strip.
Climate and Weather in Murcia
Murcia, like much of the Costa Calida experiences very little rainfall throughout the year and hot temperatures that can reach close to 50 C in summer. Geographically the area is quite arid due to the extreme heat in summer times, although it's not uncommon for a whole years worth of rainfall in just a few days. The highest temperature to be recorded is 47.2 C in July 1994, one of the hottest temperatures ever recorded in southern Europe. Generally the coldest month is January when the temperature is between 5 C – 16 C, the hottest month, like most of Spain is in August when the thermometer frequently exceeds 40 C.
Transportation
Murcia is currently serviced by San Javier airport which is around 45 km away from the city centre, Alicante is some 70 km away with the newly built airport of Corvera only 23 km away. Corvera airport has yet to be opened due to contractual problems and other politics, although the plan was to gradually phase the air traffic away from San Javier in favour of Corvera. Other transportation facilities include buses, trams and a train system run by RENFE that connects Murcia with Madrid via Albacete. There are many other notable locations within easy reach of Murcia which include Valencia, Catalonia, Aguilas and Cartagena.
Attractions & Days Out
Cathedral de Santa Maria in Murcia is the most visited attraction in the City, the initial work started on the Cathedral in 1394 and was completed in 1465. Throughout the centuries the Cathedral has undergone many changes and additions to the original structure, this includes the impressive bell tower which was built between 1521 – 1791 and stands at 300 ft tall. The interior and exterior of the Cathedral are a mixture of styles which includes Baroque, Renaissance and Gothic. The Roman Theatre in Cartagena is perhaps the oldest remaining evidence of Roman occupation in Spain. The theatre was built some time between the 5th-1st century BC, the remains were discovered in 1988 during construction of another building in the area.
Costa Calida Articles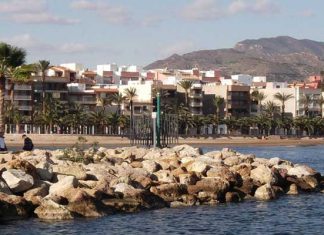 Mazarrón is located on the South Eastern Mediterranean coastline of the Costa Calida in the Province of Murcia. The area of Mazarrón is located...
More Costa Calida Articles