Guadalest Valley lies some 20 km's inland from Benidorm in southeaster Spain. This magical destination offers some of the most breathtaking views. The village here is one of the most picturesque in this part of Spain.

The Breathtaking Guadalest Valley Near Benidorm
Set high up on a pinnacle and carved out of a mountain top. The tiny village of Guadalest has a population of only 200. Guadalest Valley is still one of the most popular tourist attractions in Spain. Over 2 million visitors come here each year.
The drive inland from Altea is fascinating. The road winds ever higher past the picturesque village of Polop. It then emerges high up over Guadalest.
Many choose to spend the entire day enjoying the beauty of Guadalest. An alternative idea is to combine your day with a visit to the incredible Algar Waterfalls. These majestic waterfalls lie only a short drive away from this majestic location.
One of the most famous landmarks is the Penon de La Alcala tower which rises high above the village. This tower affords a commanding view of the valley below.
Guadalest Castle, Village and Museums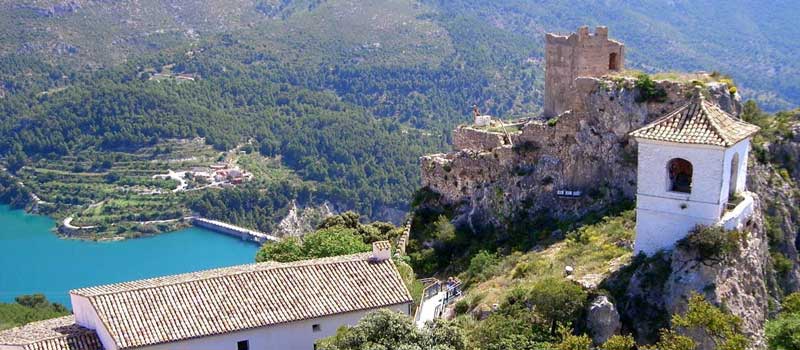 Passing through the tunnel will take you to the castle and village. This place is a delight with craft and souvenir shops, several cafes and small museums. It's definitely worth checking out some of the amazing miniature model villages. You can visit the Museo de Antonio Marco to see many examples of these models and other crafts.
For a few Euros you can take a tour of the castle and ramparts. These areas offer stunning views of the surrounding valley down to the Bay of Altea. Guadalest has been declared a Monument of historical and artistic value. This is a fantastic day out for all the family.
Map of Guadalest
The map of Guadalest below is interactive which allows you to zoom in and out. Why not make the short trip inland and escape the noise of popular Benidorm for a truly unforgettable experience?