Cádiz is an ancient port city lying on Spain's southwest coast. Perched on a narrow spit of land, the city is surrounded by sea and has served as an important port for the Spanish Navy.

Among its many ancient buildings and historical landmarks are some spectacular plazas. Many of these are situated in the densely populated old town where the narrow streets and lanes are a delight to explore. Be sure to visit the Plaza de San Antonio and its lovely church.
Cathedral, History & Architecture of Cádiz

Other historical places worthy of a visit include the famous landmark of Cádiz Cathedral. Originally built in 1260, the cathedral boasts a variety of architectural styles and its various chapels house some interesting relics and paintings. Further beautiful works of art can be viewed at the Museum of Cádiz which showcases the city's 3,000 year history.
La Caleta Beach & Victoria Beach

La Caleta Beach (picture above) lies between the castles of Santa Catalina and San Sebastian in the old town. Although not the most popular tourist beach, it is much loved by the locals and is featured in a number of carnival songs. Heading over to the newer part of the city visitors will find the popular Victoria Beach. It's family friendly due to its sandy bottom and gentle waves. The beach stretches for 400 metres and is backed by shops, bars and restaurants.
When the sun sets over Cádiz the happy go lucky gaditanos (locals) come out to eat, drink and be merry. The city certainly has no shortage of lively dining and entertainment venues. Its rich offerings of delicious seafood feature highly on restaurant menus and also in the many varieties of tasty tapas. For a riot of humour, song and dance, visiting during Carnival is a spectacle not to be missed. So, just throw caution to the wind and join in the merriment.
Andalucia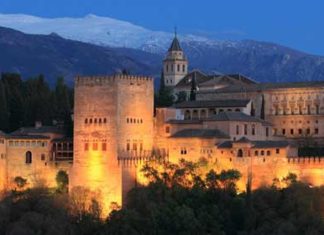 Andalucia is located in southern Spain and has the biggest population of the autonomous regions with are around 8.5 million inhabitants. Andalucia is a fairly...