The Alhambra is a vast fortress and palace complex located in the Spanish city of Granada. Often referred to as a fortified city in its own right, it certainly covers a large enough area. The Alhambra stands out among medieval palaces for its intricate planning, complex decor and abundance of charming gardens and courtyards.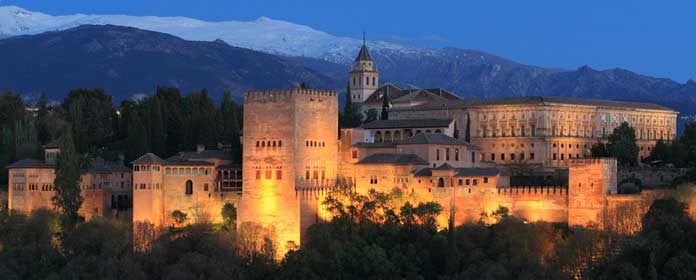 The name of the palace was taken from the Arabic, Qal'at al-Hambra (Red Fort). Although additions and repairs have been made over the years, the main palace complex was built between 1232-1492 by the Nasrid Dynasty, the last Muslims to rule in Spain. The Alhambra still remains an important pilgrimage for Muslims worldwide. In peak season the palace and gardens receive up to 6,000 visitors daily. This link will take you to the official website which provides a virtual tour and information about tickets prices. You can also check our the video on this page.
The Alhambra Palace Architecture
Therefore to truly appreciate the awe inspiring architecture and intricate artwork and detail found around every twist and turn, it's best to visit during the quieter winter months. for those interested in architecture, art, literature and religion, it's quite possible to spend months visiting the Alhambra. The palace's water system alone is a feat of engineering.
Alhambra Gardens & Courtyards

The Muslims viewed water as not just a practical necessity but also to create beautiful ornamentation and sound. Throughout its various palaces, gardens, courtyards and rooms are an intricate network of water channels. These were used to irrigate the gardens, supply the various baths and wash houses and to create stunning fountains and water features.
The main structures within the Alhambra Palace include the Royal Complex, Hall of the Ambassadors, Court of Lions, Fountain of Lions, Hall of the Abencerrajes and the lovely Generalife Gardens. These were constructed just outside the palace walls. They consist of a collection of beautiful gardens with their very own palace. These served as a welcome retreat for the past rulers of Granada during the stifling summer months.