The city of Jaén is located in south-central Spain. It is surrounded by pretty rolling hills festooned with olive groves.

These groves give the city its proud title as the World Capital of Olive Oil. Backing these picturesque hills are the Santa Catalina mountains which attract many adventurers and nature enthusiasts. Jaén is the industrial centre of its province. Aside from its olive oil production it also has a number of textile factories and alcohol distilleries.
Saint Catalina Castle

Although not really on the tourist trail, the city and surrounding countryside has much to offer the more discerning visitor. Dominating Jaén's skyline is its huge cathedral. This is a beautiful example of renaissance architecture designed by the famous Andrés de Vandelvira. Another place worthy of a visit is Saint Catalina Castle. Built on the ruins of an Arabic fortress, the castle sits on a hill overlooking the city.
There are several interesting churches and museums in Jaén. When visiting Villardompardo Palace, be sure to venture below the palace to see the Arab Baths. These are the largest preserved baths in the country and also an important remnant of the area's Moorish era.
Hungry visitors to the city needn't spend a cent on food. This is achieved by treating yourself to a bit of a tapas tour. Due to it not being very touristy, Jaén is one of the few places left in Spain where you can find traditional tapas bars. By traditional I mean a tapas bar that serves a 'free' tapas with every drink order. So, by enjoying a drink in a few bars you can fill your tummy for free. Be sure to try the delicious black sausage filled and paprika coated rolls.
Substitute the sea for mountains and Jaén will certainly not disappoint. The city is hugged by some of the most spectacular natural parks and mountain ranges in Spain. These provide an adventure playground with countless hiking trails, climbing routes and pretty flora & fauna.
Andalucia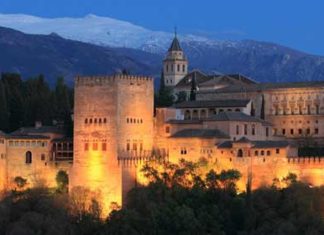 Andalucia is located in southern Spain and has the biggest population of the autonomous regions with are around 8.5 million inhabitants. Andalucia is a fairly...