This article contains the top attractions and things to do in Tenerife, one of the best Spanish islands in the Atlantic. We also provide an insight into the history of the island. The orange links further down the page will take you to monthly climate pages, resorts and other attractions.
Quick Links
Some Of The Top Attractions in Tenerife
1) Teide National Park

Mount Teide dominates much of the centre of Tenerife which includes the skyline. It's also the third biggest volcano in the world if you are measuring Teide from it's base.
Teide volcano is the main attraction of Teide National Park and indeed, the island of Tenerife itself. The massive crater alone has a width of 10 miles. Standing at 3,718 metres above sea level, Teide is the highest point in Spain. A cable car takes visitors up to the summit of the peak. Here you experience some of the most spectacular vistas in the Atlantic.
When To Go? – February
The atmospheric conditions at the peak are incredible as clouds roll in. This is especially true if you pay a visit around February or March when conditions are quite overcast.
2) Loro Parque

Loro Parque opened it's doors in December 1972. This superb attraction quickly became the number one in Tenerife. It has since welcomed over 40 million visitors.
This popular zoo lies in the northwest of the island in Puerto de la Cruz. Loro Parque started life with 150 different species of parrot. There are now well over 350 different species and somewhere around 4000 parrots.
When To Go? – May
To fully appreciate everything this amazing park has to offer it's best to visit when it's warm. The climate in May is just about perfect to spend an unforgettable day at one of Tenerife's top attractions.
Map of Tenerife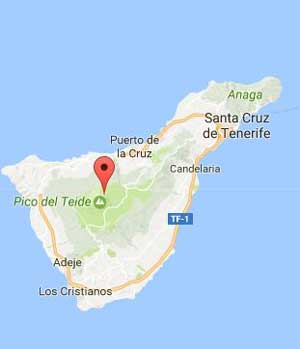 The image above is only a rough indication, this page shows the map, resorts and points of interest in Tenerife.
Popular Outdoor Things To Do
3) Siam Park

Siam Park is a beautiful Thai-themed water kingdom and one of the top attractions in Tenerife. The water rides here are grouped into three categories. Relax, family and also adrenaline to suit all age groups. The main attractions are Siam Beach, Mekong Rapids, Dragon & Tower of Power.
One day tickets are prices at 34 € for Adults and 23 € for Children if you are a visitor and not a resident. Siam Park offer various types of tickets. There are many discounts and exclusive entry to certain areas. Please take a look at their ticket prices to get the latest offers.
When To Go? – April
The water here has heating which makes it ideal for a swim no matter what the outside temperature is. It's usually hot enough in April and May for a swim in the sea but conditions here are perfect all year round.

4) Macizo de Anaga – Anaga Mountains

The Anaga Mountain range is also protected rural park which lies in the northeast of Tenerife. The mountains and park are among the top places for hiking with many routes to enjoy. Some trails offer views to other Canary Islands. Standing at 1024 metres, "Cruz de Taborno" is the highest peak and point of Anaga.
This area is quite green in comparison to other parts of Tenerife. it's also one of the most remote. Some of the small villages of Anaga are no accessible with vehicles so you will need to go on foot. The "Guanches" are an ancient civilisation that hail from Anaga. They are also the subject of important archaeological finds in recent history.
When To Go? – December
The conditions here are ideal during December and around the Christmas when it's still quite warm but cooling down.

5) Playa de Las Teresitas Beach

Tenerife has some excellent beaches to spend those relaxing days. Las Teresitas is one of the few white sandy beaches in Tenerife and one of the best. This beautiful beach stretches for around 1.5 km with the water crystal clear in many places. This beach is never as busy as those in the south of the island.
Playa Las Teresitas lies in the northeast of the island. A few km's from the village of San Andres and 7 km's north of the capital city Santa Cruz de Tenerife.
When To Go? – March
As the weather improves around March, Teresitas will see a lot more visitors soaking up the sun.
6) Cueva del Viento

Cueva del Viento is another top attraction which lies in Icod de los Vinos. This area is another part of the province of Santa Cruz in the north of the island. The name comes from the strong draughts that blow through the caves.
Formed some 27,000 year ago, Cueva del Viento was the result of the Pico Viejo volcano erupting. So far, 18 km's have been mapped which makes this the fifth largest of it's kind in the world. The other four belong to the island of Hawaii. It's very possible that this labrinth of caves extends for much further than 18 km's. According to the official website, there are plans to explore the cave system further.
These case are home to 190 different species, 15 of which are new discoveries. The vast majority are invertebrates. The cave lighting displays all sort of hidden wonders. Some walls have vivid red and blue tones which are rarely seen anywhere else.
Guided tours of the caves cost 20 € for adults and 8,50 € for children. You can visit most days of the year but the timetable varies.
When To Go? October
Autumn is a good time to pay a visit to the caves, it's best to come when there are others to make up a group. The temperatures are good in October which is a busy time of year.
More Super Things To Do In Tenerife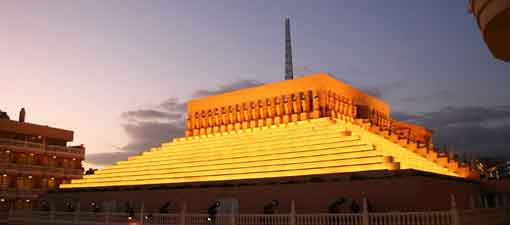 As big fans of Flamenco music it would not be right to miss out the fantastic Pirámide de Arona. The performances of renowned Spanish dance choreographer Carmen Mota are spectacular. A must see attraction.
The Pirámide de Arona (as shown above) is a vast pyramid building that dedicates itself to Flamenco. Antología (Anthology) is the main show of Carmen Mota and her company. This amazing spectacle sees some of the most important choreographies of her career. If you love Flamenco, you will not regret coming here.
You can check out the official website for ticket prices and schedule.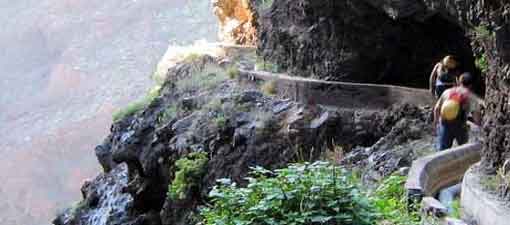 Another attraction for hiking enthusiasts comes in the form of Masca Walk. An incredible but challenging landscape awaits those that come here walking. This is the perfect place to be at one with nature.
The landscape here is simply amazing. Full of caves, arches, beautiful rock formations and vegetation. Many that attempt this walk are surprised by the difficulty. The four hour trek is for beginners but even this will test your strength and stamina. Suitable footwear and comfortable clothing are mandatory.
This excellent article by Walking Tenerife goes into more details about what to expect.
Ready To Book Your Hotel?