Tossa de Mar is a pretty coastal resort in northeastern Spain. This popular town lies between the French border and the major city of Barcelona.

This Spanish Costa is the Costa Brava or "Brave Coast" in English. Home to some of the top holiday destinations in northern Spain.
Tossa de Mar Travel & Tourism Guide
Tossa de Mar lies 12 km north of the vibrant Lloret de Mar resort. This is where many head for the extended nightlife on offer. The coastline and bay of Tossa de Mar stretches for 14 km with a series of beautiful beaches and coves.
This beautiful town is rich in history and culture. This is the only example of a fortified walled-in medieval town in the whole of Catalonia.
Top Attractions & Things to do in Tossa de Mar
Tossa de Mar is full of attractions, historic landmarks and plenty of things to do during your visit. Below we provide more information about the beaches, castle and old town. We also cover some of the other top attractions you should check out.
Beaches & Coves

There are 15 beaches and coves along the 14 km coastline of Tossa de Mar.The 3 main beaches in the town itself are Platja Gran, Platja del Reig and Platja de la Mar Menuda. Platja Gran (big beach) is the biggest as the name implies with a length of 380 metres and a width of 60 metres.
The medieval castle and walled old town lie to the east of this beach. Although the biggest beach, Platja Gran does not tend to get as busy as you may expect. This is due to gritty composition of the beach.
The landscapes here are the most photographed of the Costa Brava coastline such is their beauty,
The second beach of this town is Platja de la Mar Menuda (beach of less sea). This beach has shallow calm waters ideal for children. Both beaches are Blue Flag Certified and continue to attract plenty of visitors.
Platja del Reig is a tiny beach which is little more than a cove. This depends on whether the sea has washed the sand away or not.
There are many more beaches and coves to explore here. one of the official tourism websites has an excellent beaches map. A good resource if would like to know more about the beaches here.
Tossa de Mar Medieval Castle – Vila Vella

Villa Vella is the only fortified example of medieval Catalonia on the Costa Brava or northeastern coastline. Built in the late 14th century, these landmarks bear a resemblance to the Peñiscola Castle and town. Peñiscola lies to the south on the Costa del Azahar and is also known as the "City in the Sea".
Despite the age of the castle, most of the original features still exist.
These include the turrets, cylindrical towers and outer walls which remain intact. Taking a stroll to the top of the castle may seem like a bit of a slog. You are rewarded with some amazing views of Catalonia and the Mediterranean Sea.
Another bonus if you trek to the top is the unexpected tapas bar serving snacks and refreshments. This is an especially welcome sight on hot days.
The beautiful old town is a pleasure to visit as you pass through narrow cobblestone streets. These streets are full of old churches and buildings all dating back hundreds of years.
Hiking & Mountain Bike Trails

Among the top things to do in Tossa de Mar are walking, hiking and mountain biking. Many trails exist in the hills above the beaches and coves. There are 5 walking trails in total, all offer spectacular views of the Sea and the coastal areas below. The walking trails will take you through popular areas such as Cala Pola, Es Codolar and Sant Grau.
There are 3 mountain bike trails of varying distance and difficulty. These take you up into the mountains and through beautiful lush green countryside.
Puig de Cadiretes is route 1 with a distance of close to 11 km. This route has some steep slopes to negotiate which can be dangerous when you descend.
Les Planes de n'Aromir is not as demanding as route 1 and mainly on the flat with some ascending and descending. The distance is much longer at close to 15 kilometres but the ride is enjoyable.
Aiguafina is the longest route at 18.5 kilometres but the ride is not as challenging as it the other routes.
Tossa de Mar Hotels
Below we provide some of our favourite hotels in Tossa de Mar with a some useful information about each.
Hotel Diana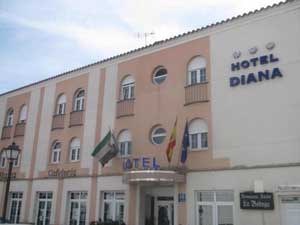 This gorgeous hotel has a 2 star which seems amazing all things considered. An important historical building that's over 100 hundred years old.
Located in Plaza España near Puig de Castellet, Hotel Diana has 21 rooms available. This hotel lies opposite the beach and only 10 minutes walk to the town centre. You can check out the rooms and prices for more information about this museum style guest house.
Golden Bahia de Tossa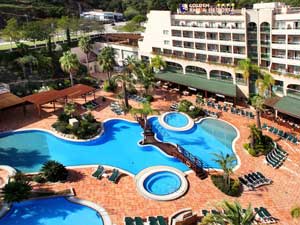 Moving upscale we come to the amazing Golden Bahia de Tossa. A 4 star hotel with all the trimmings and more. Golden Bahia de Tossa has an indoor and outdoor pool. There are several bars for different occasions, a sauna and many sporting facilities. The hotel is well located giving you easy access to beaches, town and everything good going on in Tossa de Mar.
Ready To Book Your Hotel?