Lloret de Mar attracts millions of visitors each summer for it's package holidays. In fact, this town was one of the very first in the country to offer these low cost holidays.
Lloret de Mar is a popular coastal town and tourist resort located on the Costa Brava. This Spanish Costa lies on the northeastern Mediterranean coastline.
This magical location is best known for it's beautiful beaches and vibrant nightlife. here you are also spoiled for choice with the many attractions and things to do on offer.


Lloret de Mar is full of hotels, restaurants, bars, nightclubs and interesting attractions. If you manage to run out of things to do here, the city of Barcelona is 75 km to the south. The city of Girona is some 45 kilometres to the north.
There are two other popular towns close by also. The town of Blanes lies to the south, with Tossa del Mar to the north. According to official figures, Lloret de Mar is the 5th most visited location in Spain.
Top Things to do in Lloret de Mar
There are so many top attractions and interesting things to do in Lloret to Mar to keep you occupied during your visit, below we provide a little information about some of the most popular. You can also check out some more of the popular activities on this tourist information website.
Visit The Fabulous Beaches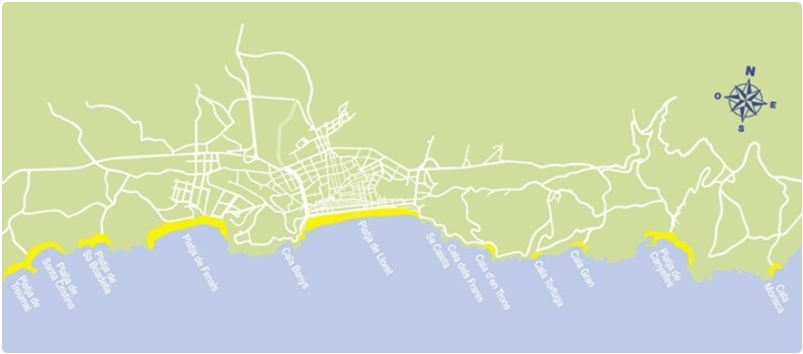 Lloret de Mar is particularly famous for it's superb Blue Flag beaches. In total there are over ten beaches and smaller coves to choose from. The main beach is over 1600 metres and has a beautiful promenade running alongside. The promenade is ideal to for a stroll and taking in the local surroundings.
Other beaches here include Fenals, Sa Coleta, Cala Boadella and Santa Cristina beach. Canyelles beach, Treumal beach and Cala Banys are also worth checking out.
Santa Clotilde Garden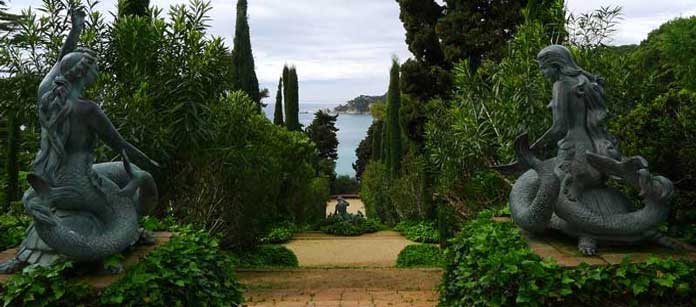 Santa Clotilde Gardens are the top attraction in Lloret de Mar. These beautiful gardens offer views of the Sea while you admire the trees and flowers. The vast array of colours on display here is truly breathtaking . This majestic example of landscape gardening is actually built on top of a cliff.
The gardens were designed in the style of Italian Renaissance by Nicolau Rubió i Tuduri when he was 28 years of age. Most of the visitors here speak of their experience as peaceful and tranquil. a relaxing walk here is especially encouraged. There is a small 5€ charge to enter Santa Clotilde Gardens and enjoy the spectacular scenery on offer. You can also pay around 10 € for the garden tours bus.
Amazing Nightlife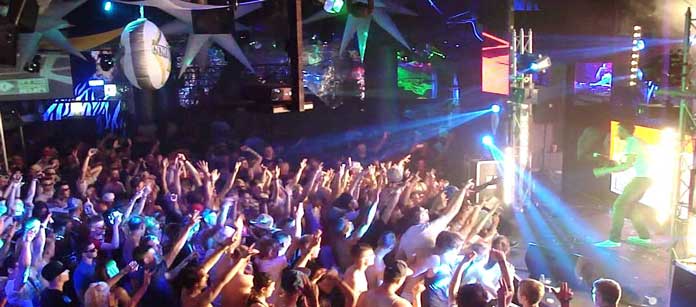 Despite all the natural beauty on offer here, this popular town comes alive at night. The Lloret de Mar Nightlife is one of the most vibrant one the eastern coastline of Spain. There are tons of bars, restaurants and clubs for revellers to enjoy themselves.
The strips are where most of the action takes place. These ares tend to attract quite a lot of youngsters to it's establishments. El Pub, Bar Room and Disco Colossos (picture below) are among the hot spots to enjoy an evening out. The Queen Vic is one of the better sports bars around if you want to catch up with the latest sports.
Map of Lloret de Mar
Please click the image below for a full size Map of Lloret de Mar and some of the local attractions.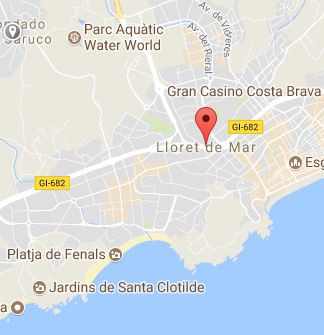 Sant Roma Parish Church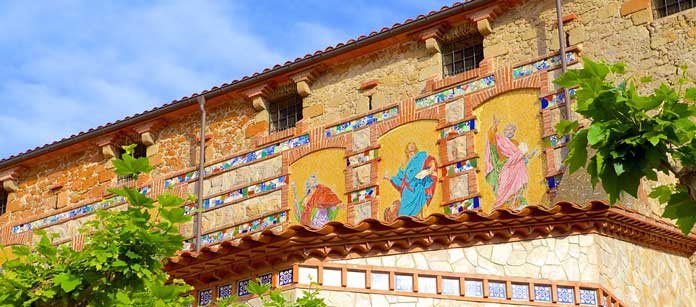 Another top attraction located the centre of Lloret de Mar is the Sant Roma Parish Church. The church showcases some of the finest architecture both inside and out. This amazing building offers another peaceful and relaxing experience. Sant Roma Church is particularly striking due to interesting mix of colours used. Night time sees the church illuminated. This only adds to the beauty of the spectacular architecture. This beautiful church contains one of the oldest organs in the whole or Europe.
Ready To Book Your Hotel?