The Costa del Azahar or Orange Blossom Coast once translated into English is the Spanish Coast that makes up the province of Castellón. The Costa del Azahar extends from the town of Vinaròs in the north, some 115 km south to the town of Almenara.


The Costa del Azahar – Orange Blossom Coast
Along this eastern Spanish coastline there are many interesting towns of note, these include Benicarló, Peñíscola, Morella and the popular Benicassim. FIB (Festival Internacional de Benicàssim) is held at Benicassim each year and is well known for being Spain's biggest music festival which attracts revelers from all over the world.
Costa del Azahar Towns and Villages
The Costa del Azahar is more unspoilt than some of the other areas to the north and south and retains much of rich history and culture. This beautiful stretch of coastline boasts some magnificent beaches that are not overcrowded during the summer and historic castles and architecture that are reminiscent of the Moorish occupation here. Below we provide a little information about some of the popular towns and villages found on the Costa del Azahar coastline.
Peñíscola


Peñíscola is known locally as "City in the Sea" and in some places the "Gibraltar of Valencia" which is joined to the mainland by a narrow strip of land. This fascinating small Spanish town is a fortified Sea Port with a Lighthouse on a rocky headland. The local population is around 8500 inhabitants with a land mass of 79 km or 31 square miles. One of the most striking attractions on offer is Peñiscola Castle that rises majestically above the Sea and town below. The castle was built by the Knights Templar between 1294 – 1307 along with the medieval walls that help to fortify the town.
Benicarló


Benicarló is a pretty seafaring town located to the north of Peñíscola to the south of Vinaròs. The small port houses some 50 fishing boats and small yachts. Benicarló is famous for it's production of Artichokes with some 7,500,000 Kg produced each year. There are three main beaches in this small town which includes Mar Chica, Playa del Morrongo and Playa la Caracola. Mar Chica is a pebble beach whilst the other two are fine golden sand beaches with blue flag certification. There are several popular markets that are worth checking out, the central market is located in the market square and two smaller markets that open on Wednesdays. The beautiful Iglesia de San Bartolomé (picture above) is one of the top attractions here and hiking is popular in this area also.
Popular Areas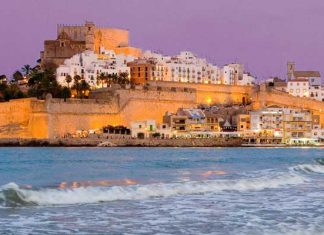 Peñíscola, Province of Castellon Peñíscola is a popular tourist destination located on the south eastern Mediterranean coastline of Spain. This picturesque town can be found...
Costa del Azahar Map
Click to enlarge image.