The Costa Dorada is another of the leading Spanish Costas. This area of Spain stretches for 215 km of the northeastern coastline. The Costa Dorada or "Golden Coast" is a reference to colour of the sand when the sun reflects off it's beaches.
This fantastic location has around 4 million visitors each year. Having Reus and Barcelona airports so near contributes to the high levels of tourism. This coastal area shares a border with the Costa Brava to the north and Costa del Azahar to the south. The Costa Dorada exists within the province of Tarragona. Barcelona lies to the north and Castellon to the south.
Costa Dorada To Barcelona
If you want to get ot Barcelona from the Costa Dorada you could take the train or drive. The train will take a little under 2 hours but can cost as much as 27 Euros. Driving will take around 1 hour 20 minutes but will cost about half the train fair in fuel. The good news is it´s a nice simple drive north on the AP7. You will need to drive a total distance of 128.9 kilomotres to reach Barcelona.
There are a total of 20 towns along the coastline stretching from Alcanar in the south to Cunit in the north. The most popular coastal town is without doubt Salou. This popular tourist destination is only 20 minutes from Reus airport.
Top Tourist Resorts & Towns On The Costa Dorada
With so many great towns to choose from along the Costa Dorada coastline you are spoiled for choice. Much of this region still maintains it's history and culture. There is a heavy Spanish and Catalan influence here that is very evident.
Catalan is the native language of Catalonia and also the language spoken here. Catalonia is the second biggest region of Spain after Andalucia. Below we provide information about some of the more popular towns on the Costa Dorada.
Costa Dorada Map
This popular Spanish Costa lies on the northeast coastline of Spain, just south of Barcelona. Please refer to the Costa Dorada map below and click if you would like to see a full size Google map. We also provide more extensive maps of Spain which covers the mainland, islands and colonies.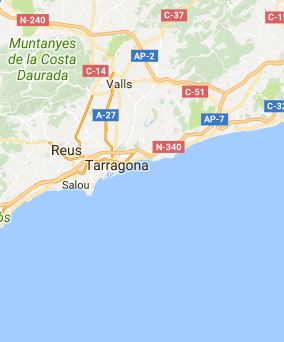 Cambrils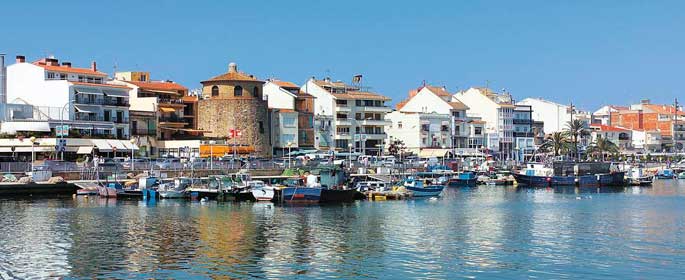 Cambrils is another popular town on the Costa Dorada which lies south of Salou. Unlike Salou, Cambrils is very Spanish with many Spaniards owning second homes here. This area was a small fishing town like many others along this stretch of coastline.
Tourism, agriculture and other industries have led to heavy investment here. This has resulted in large re-development over the last half a century.
Cambrils has a pretty harbour and some interesting things to see. These include the Torre del Port (port tower), two museums and a newly developed park.
There has been a huge tourism drive over the past few years here. The aim is to establish Salou as the number one tourist resort in Europe.
PortAventura World and Costa Caribe alone attract around 4 million visitors per year. Here there is plenty more going on away from these theme parks. This area is rich in culture, history and natural beauty.
Closest Airport
Reus is the closest airport to most of the top resorts such as Salou which is 10 kilometres from Reus.
Check Hotels
Salou, Number 1 Resort Town On The Costa Dorada
Salou is one of the top tourist towns in northeastern Spain and part of the Costa Dorada coastline. This popular town is part of the province of Tarragona in Catalonia. Salou attracts millions of visitors per year.

There has been a huge tourism drive over the past few years here. The aim is to establish Salou as the number one tourist resort in Europe.
PortAventura World and Costa Caribe alone attract around 4 million visitors per year. Here there is plenty more going on away from these theme parks. This area is rich in culture, history and natural beauty.
Best Attractions & Things to do in Salou

Salou would not be one of the top European destinations without amazing attractions. There are also many great things to do to keep you busy during your visit.
This town boasts the biggest theme park in Europe. The same company owns the water park up the road from here. All around Salou there are beautiful monuments and landmarks. These include the Illuminated Fountains and Avenida Jaume I (picture above).
PortAventura World y Costa Caribe

With around 4 million visitors each year it's pretty hard to get away from PortAventura. Especially when speaking of the top things to do in Salou. PortAventura is almost it's own world within a world such is the vastness. There seems to be a limitless amount of attractions and services on offer.
In fact, PortAventura is 6 separate worlds. These consist of Mediterranea, Polynesia, China, Mexico, Sesamo and the Far West. Here you will have the opportunity of staying a one of the many 4 and 5 star hotels as part of your holiday.
Each world has it's own hotels that blend into that particular culture and lifestyle. El Paso for example is a Mexican themed hotel that's characteristics match the real El Paso in Mexico.
Here there are also many fine dining restaurants dotted around the resort. Many shops, sports facilities and 3 different golf courses. You can check out everything by visiting the website for more details in the meantime.
Illuminated Fountain – Font Lluminosa

The Illuminated Fountain in Salou is the top landmark in this town. The fountain alone attracts plenty of visitors to the area. Opened in 1973, the illuminated fountain is formed of over 100 different jets of water. These explode into hundreds of different colour combinations. The beautiful colours are synchronized with music also.
During Easter and summer, visitors are treated to spectacular water and light shows. These shows will leave you amazed.
The fountain is such as success that it's now available at several other fountains. These fountains can include Avenida Jaume and surrounding areas.
Map of Salou
The image below once clicked will take you to a full size Google map of Salou.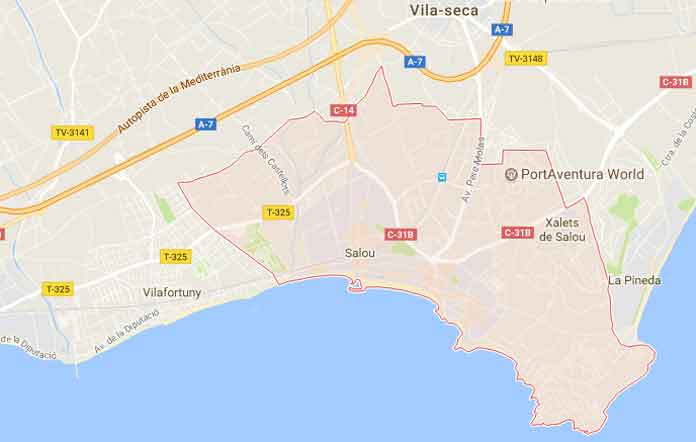 Top Beaches In Salou
Salou has 14 km of beautiful sandy beaches and coves along it's coastal areas. Many of these beaches hold Blue Flag Certification. Below are some of our favourite beaches you should check out when visiting.
Llarga Beach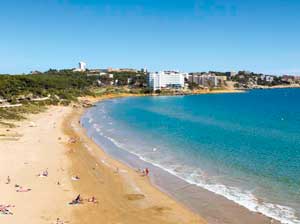 Llarga beach is one of the longest and busiest beaches in Salou. This beach does get busy but there is plenty of room for everyone. This beach has a length of around 600 metres of golden sand and clear shallow waters ideal for children. Llarga like all beaches in this area is always clean with a friendly beach bar and great atmosphere.
Llevant Beach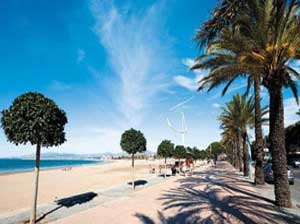 Llevant Beach is another top beach located in the centre of town. This is the longest of the beaches in Salou with a length of 1200 metres and an average width of 70 metres. The golden sand here is beautiful and as a result, this beach is always busy.
There are excellent facilities which include showers and toilets and good disabled access. The water here is particularly calm making this beach ideal for people of all ages.
Ponent Beach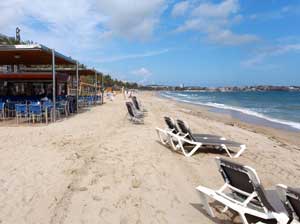 Ponent Beach is shorter than Llevant with a total length of 1100 metres. The average width of this beach is 30 metres of fine golden sand. The Miramar promenade runs alongside Ponent which is always a buzz of activity. Ponent, like the other 2 beaches above has excellent facilities and disabled access. This beach tends to be occupied by the locals more than the tourist.
H10 Salauris Palace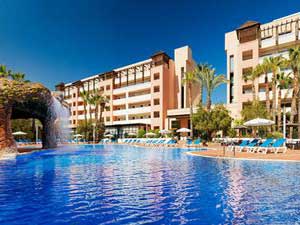 One of the very best hotels in Salou and indeed Spain. Salauris Palace Hotel boasts 351 elegant rooms. This hotel is only 800 metres from PortAventura. Facilities here include A swimming pool with waterfalls, jacuzzi and hydraulic chair lift.
The restaurant and bar areas have recently undergone extensive re-developments. their website explains in more detail. Other unique facilities include beauty centres and a children's playground with pool. There is also underground parking available.
H10 Vintage Salou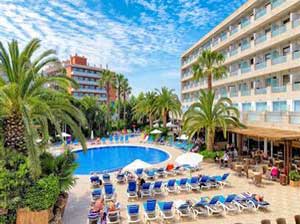 Another magnificent hotel from H10 group comes in the form of the H10 Vintage. This hotel has 323 rooms to suit all requirements. H10 Vintage is a 4 star hotel with some excellent facilities. Especially the new bicycle stations.
Cycling is popular here so it's great to see more facilities like this available. The bar and restaurant areas serve a good range of Spanish and international cuisine. More features include beauty rooms, children's playground and pool.