Welcome to the Costas Online Spanish Costas & Islands, a leading resource that provides useful travel tips and guides to the top coastal areas and islands of Spain. Originally the focus of this website was to concentrate only on the coastal areas but we have since begun to expand to the Spanish Islands such as the Canaries and the Balearics.
The Spanish Costas are formed of many very diverse coastlines, each very different with their own individual qualities. In fact, every one of these coasts are packed full of incredible things to experience and enjoy. The Costa del Sol for example is probably the best known for tapas while the Costa Blanca is known for it's white beaches.
Spanish Costas List
Below we have compiled a list of the main Spanish Costas in terms of tourism and popularity. Each of these pages will take you to separate articles about each specific costa with additional related articles.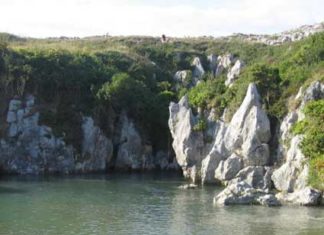 Forming most of the province of Asturias on Spain's Atlantic coastline, visitors to the Costa Verde (Green Coast) would be forgiven for thinking they...
Costa Dorada is another leading Spanish Coastal area that stretches for just over 215 km fn the northeastern coast of Spain
The Costa Brava is a popular coastal region located on the northeastern coastline of Spain. Belonging to the Province of Girona.
Spanish Islands
There are two popular groupings of Spanish Islands which are commonly referred to as archipelagos. The Balearic Islands are located off the eastern coastline and include Majorca, Ibiza, Menorca and Formentera.  The Canary Islands are located just off the south west coast of Morocco and the African mainland in the Atlantic Ocean. Tenerife is the largest and most popular in terms of tourism but Fuerteventura, Gran Canaria and Lanzarote also help attract millions of visitors to these beautiful Spanish islands.
Popular Cities & Suburbs On The Spanish Costas
Below are just a few of the great Cities to visit on the Spanish Costas such as Benidorm, Alicante, Torrevieja, Marbella and Malaga. The titles with a blue background are all clickable and will take you to the general page for each City. Below the main articles for each area there are also some arrows and load more buttons to see additional articles in that given area.
Popular Places On The Spanish Coastline
Spanish Costas & Islands Map
Below is an image that highlights most of the main Spanish Islands and coastal areas. There are many more smaller areas to consider but our focus is on the main tourism locations.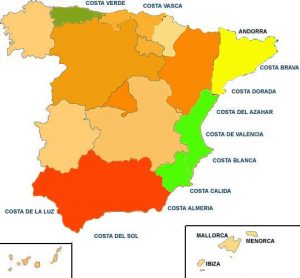 Balearic Islands
The Balearic Islands are a grouping of tiny islands and islets known as an archipelago, much the same as the Canary Islands in the Atlantic Ocean.