Known locally as La Fiesta Del Cielo and taking place in June, Los Alcazares Air show 2020 will return to thrill the crowds. The air show is in commemoration of the centenary of the aerodrome of Los Alcazares.
Los Alcazares Air Show
Featuring international teams of civil and military acrobatic aircraft from Spain, Belgium, France and Italy performing a variety of thrilling stunts. The skies will be filled with the chest thumping roar of jet and propeller engines and the evocative smell of high octane fuel.
The team opted to do shows in Gijon and Malaga in 2017 but will return to Los Alcazares in 2020. This years air show is going to be extra special than previous years. 2020 sees the celebrations for the 75th anniversary of the Air Academy.
Los Alcazares Air Show Dates
The air show returns to Los Alcazares in 2020 on the 9th and 10th of June. This promises to be a spectacular show like no other here.
Please note, even though these dates are now confirmed, the air show format may be different from below.
9th June Sunset Air Show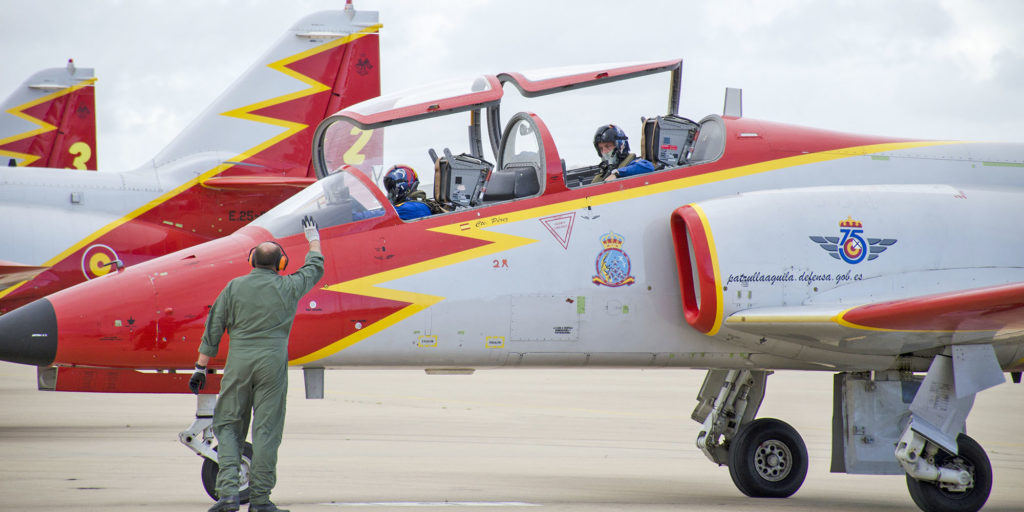 The sunset air show is a fantastic combination of top class air acrobatics accompanied by a dazzling firework display taking place between 10:00 am and 17:00 pm with manoeuvres from Spain's Patrol Paratroopers, Belgian Air Force F16's, Pioneer Team of Italy and Patrol Reva of France.
10th June Sky Festival
A morning and afternoon of daredevil performances from top teams and pilots taking place between 10:00 am and 3 pm. Held along the bay of Los Alcazares between the Yacht Club and High Performance Centre.
The Los Alcazares Air show 2020 promises to be a fun weekend for all the family with a whole host of great stuff to do including a jet flight simulator, services, amenities, food and drink. For further information on the Los Alcazares Air show 2020 call : 968 575 047.
Los Alcazares Area Information
Los Alcázares lies on the southeastern Mediterranean coastline of the Costa Calida. This area is part of the region of Murcia which borders the Costa Blanca on the southeastern coastline of Spain. This popular tourist location was a small fishing town like much of this country. Los Alcázares has since grown into one of most visited places in the entire region.

Los Alcázares, Costa Calida
Lying to the east of Los Alcázares is the popular La Manga strip and Mar Menor, Europe's biggest saltwater lagoon. The Mar Menor also belongs to three other close municipalities. These are include San Javier, San Pedro del Pinatar to the North and Cartagena in the South.
The local population all year round is around 15,000 inhabitants. This swells to well over 100,000 during the summer months.
Beaches of Los Alcázares

Los Alcázares has many beaches which receive the Blue Flag for excellence. Blue Flag status is only awarded to the very best beaches for cleanliness, high safety levels. Also those that provide a great atmosphere and good amenities.
Here you can find 7 beautiful sandy beaches adjoining with each other. These beaches stretch for 7 km of beautiful Murcian coastline. The most popular of all beaches in Los Alcazares is Los Narejos.
There are another 6 excellent beaches that receive their share of visitors. These include Playa de la Concha, Playa Carrion, Playa Mazanares. Playa del Espejo, Playa las Palmeras and Playa las Salinas are a few more worth a visit.
Attractions & Amenities
Los Alcazares is reliant on tourism and provides plenty of activities and amenities. These help to make your stay as pleasant as possible. The beaches and warm sea temperatures allow for many water activities. This is especially true in the area and also at Mar Menor.
The conditions are ideal for windsurfing and many other board sports. This area is also well known for it's safe and relaxing sailing conditions.
For keen golfers there are several top golf courses close by. These are referred to as the "Nicklaus Golf Trail". These golf courses include La Manga Club, La Serena and Roda Golf. Making up the trail we have Torre Pacheco and Las Colinas Golf and Country Club.
Map of Los Alcázares
Please click the image below for a full size map of Los Alcázares.
Climate and Weather in Los Alcázares

Los Alcázares, like much of the Costa Calida has a yearly average temperature of 18 – 19 Celsius. This area also enjoys around 320 days of sunshine per year. The hotter summer months are June, July and August. These months yield an average temperature of 25 – 35 Celsius. There is hardly any rainfall during these months, especially not July and August.
The winter months are much colder as one may expect. The colder months are December, January and February. The temperature rarely drops below 7 Celsius here and will often be much higher in winter. This part of Spain is quite arid and receives less rainfall than most of the country.