The rugged Cantabrian mountains is one of the largest mountain ranges in Spain. Situated in Asturias in northern of Spain, these mountains stretch for over 300 km's. This attraction offers many hiking and rock climbing routes of varying difficulty.

Cantabrian Mountains, Asturias, Spain
It's also possible to ski in the resorts of Manzaneda and Alto Campoo. This area of the Costa Verde is also known for it's excellent lake and river fishing. Several of Spain's large rivers rise from the Southern mountain range. The largest of these rivers is the mighty Ebro.
The Cantabrian mountains are home to several protected areas. These include 6 natural parks and the Muniellos Nature Reserve. The Picos de Europa mountains which like here are one of the most striking attractions in Spain.
Picos de Europa National Park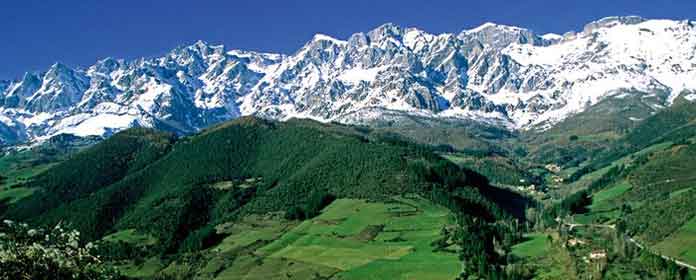 Known to be the first national park in Spain, Picos de Europa National Park covers an area of 600 km2. In the heart of the Cantabrian mountains, Picos de Europa is a mountain range in itself. Named Montana de Covadonga back in 1918 and renamed in 1995.
The area was awarded the UNESCO Biosphere Reserve Designation in 2002. Only 20 kilometers from the coast, the climate is humid with a high rainfall. The winter here still yields snowfall despite the humidity.
The landscape here is craggy with deep canyons and ravines. Interspersed with high mountain peaks reaching 2000 meters above sea level. This the case in over 200 places. with the highest peak being Torrecerredo that reaches 2,646 meters.
The Picos de Europa National Park is home to 4 rivers and the famous Covadonga Lakes. Throughout the park are many spectacular viewpoints. Here visitors can catch their breath and take in the beautiful views. Visitors wanting to experience the beauty of the park do not have to do it all on foot. There is the Fuentede cable car that takes visitors to 1800 meters above sea level.
Wildlife and Altamira Caves
The Cantabrian mountains are home to a wide range of flora and fauna. Animals such as the Iberian wolf and the Cantabrian brown bear can still live in the area. There are also 2 reserves dedicated to the conservation of the European bison.
The Cantabrian mountains has many hidden treasures for those wishing to explore further. There are some lovely beaches, medieval villages and stoneage caves. The Altamira Caves (as shown above) are a World Heritage site. Thought to be the oldest stone-age caves in the world, here there are cave paintings dating back to 18,000 BC.