The Aquopolis Water Park in Torrevieja is one of the top aqua parks on the Costa Blanca. This water attraction is among the best things to do in this city which is popular with tourists and locals alike. Many flock here during the hotter summer months when Aquopolis opens for business.

Aquopolis Water Park, Torrevieja
The super Aquopolis water park boasts 17 fantastic water rides at the time of writing. This attraction enjoys similar popularity as the mighty Aqualandia Water Park in Benidorm. Both are contenders for the top water parks in Spain, they are certainly the best on the Costa Blanca.
The water rides range from fast adrenaline pumping slides to relaxing wave machines. The wave machines are ideal to chill out while soaking up the Spanish sun.
The water attractions are only a small part of what Aquopoils has to offer. Here you can find a large selection of bars, restaurants and even a mini-golf course. Excellent ways to take a break away from the water.
Free Aqua-Gym & Step Exercises

The Aquopolis facility offers many other services & activities such as the Mini Club. The entertainment team work with the young ones that are not as experienced in the water.
For the adults and older children there is the Aqua Gym and Step exercises. These test your balance and co-ordination while giving you a musical dancing workout. Both the Aqua Gym & Step exercises have classes twice daily. The Aqua Gym at 1pm & 4pm, Step exercise at 1:30 pm and 4:30 pm.
Torrevieja Water Park Attractions

Aquopolis has 3 stand out rides that they classify in the "High Excitement" category. These consist of Speed, Kamikaze (both pictured above) and Boomerang. All three will get the adrenaline pumping if you are daring enough to try them out.
The moderate category contains the rides that are suitable for adults are children. The most popular for all ages include Black Hole, Wave Beach and Amazonia. Blue Lagoon, Rapids & Cascada are a few more to check out.
Aquopolis water park also contains dedicated sections and water areas for children. These include Mini Park, Mini Zig Zag and Charmed Lake.
Below you can find a list of most of the water rides you can enjoy during your visit to Aquopolis in Torrevieja.
Aquopolis Water Park Opening Times 2023/24
Aquopolis Torrevieja re-opens for summer on the June 9th until the 7th September. The opening times change throughout the summer. We have placed the timetable for each calendar month below. Please click the desired month for full size calendar image with colour key to the hours for that month.
Water Park Attractions
Below are just a few of the top water attractions located at Aquopolis Water Park in Torrevieja. We have also included a promotional video of the top rides.
Kamikaze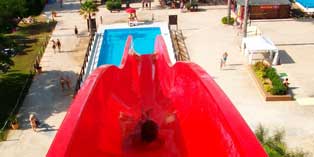 Boomerang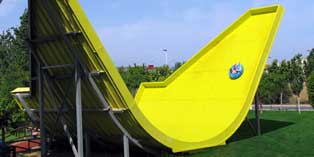 Speed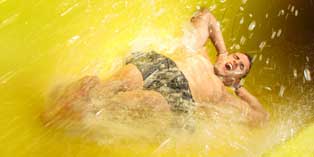 Map Location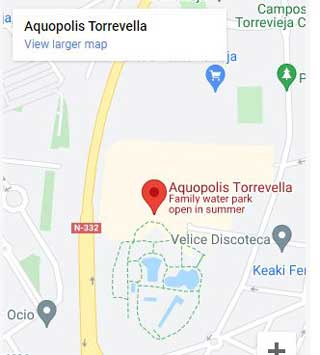 Park Attraction Map
The image below can be clicked to become full size, this highlights the main attractions and general layout of Aquopolis.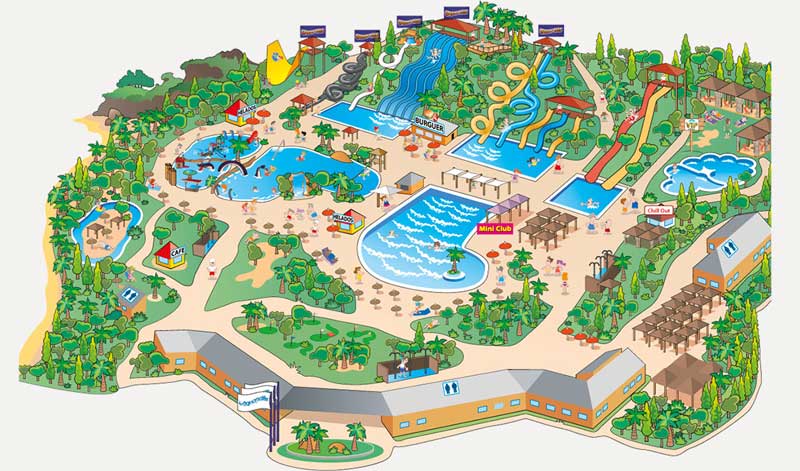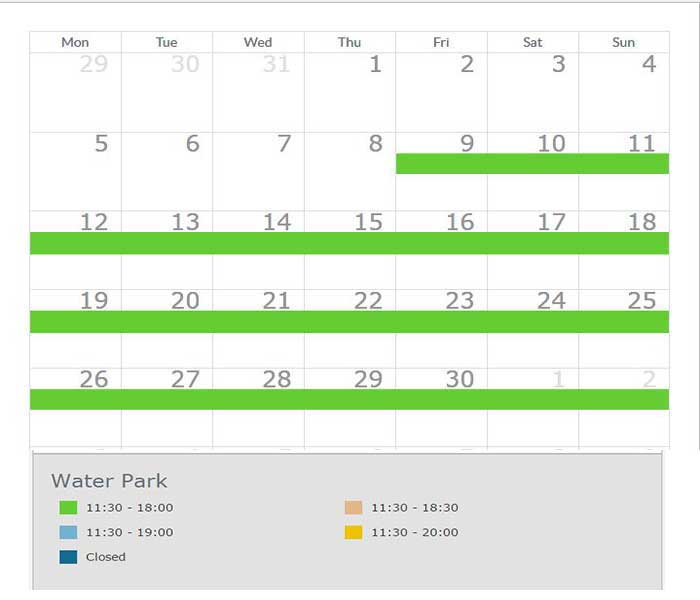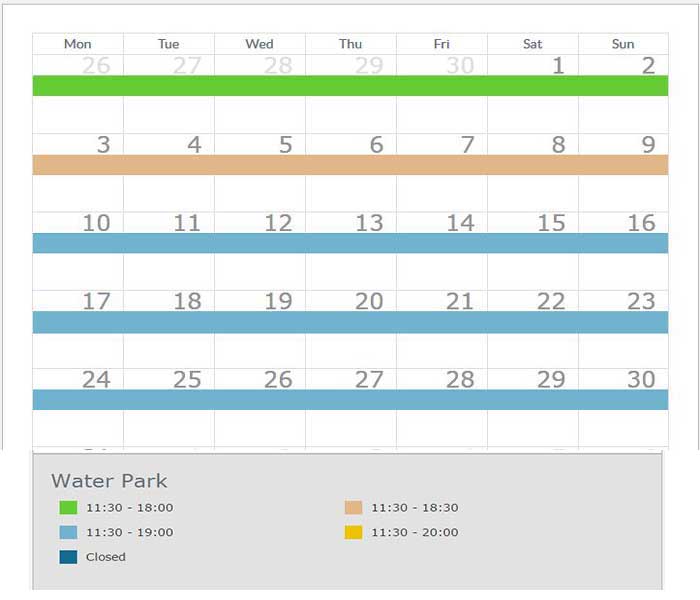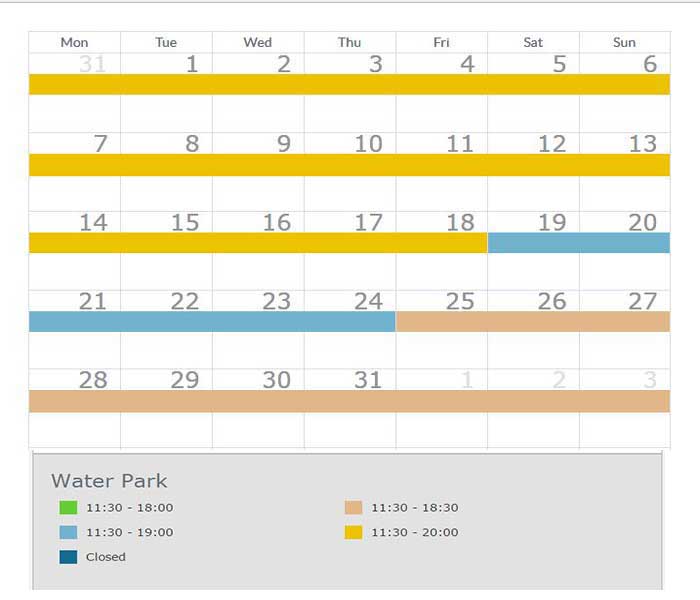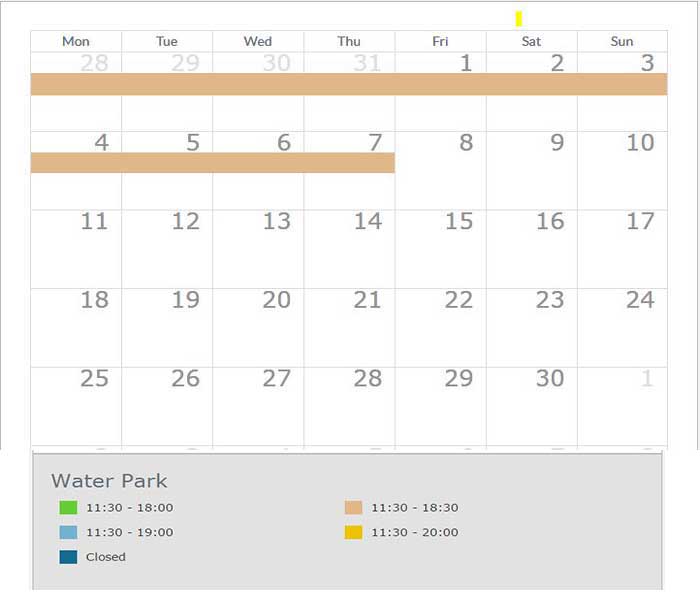 2023/2024 Ticket Prices
Ticket prices can also vary so it's best to check out the price calendar, below are the standard prices based on the opening in June. It's also worth mentioning that weekly and yearly tickets are also available from the ticket office.
One Day Tickets
Online Purchase 15,90 € (more than 1,40 m) 15,90 € (0,90 m until 1,40 m): 15,90 € (more than 65 years old): Ticket Office (prices from) 24,95 € (more than 1,40 m) 19,95 € (0,90 m until 1,40 m): 19,95 € (more than 65 years old).
Groups (more than 20 people)
Ticket Office Only 20,96 € (more than 1,40m) 15,56 € (0,90 m until 1,40 m) 15,56 € (more than 65 years old) Minimum 20 people. Reservation number: 902 345 008.
School Prices
Ticket Office Only 17,63 € (over 16 years old) 13,50 € (4 to 16 years old) 13,10 € (Over 65's According to Website).