On the south eastern Mediterranean coastline lie the sandy beaches of Torrevieja. A series of beaches that line the coastal areas of this popular tourist city.
The beaches that lie in the city of Torrevieja begin from the south with Playa de los Naufragos. They then stretch northwards to Playa de la Mata which is the longest beach here.
Jump to beaches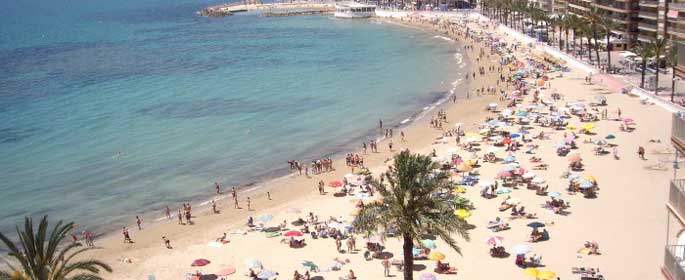 Where Are The Best Beaches in Torrevieja?
Working our way north from los Naufragos we have Playa del Acequion, Playa del Cura and Playa de los Locos. Between Los Locos and La Mata are the coves and capes known as "Cala de la Zorra", "Cala de Moro" and "Cabo Cervera".
These areas are better suited for scuba diving and snorkelling. Below we provide more information about each beach and what to expect when you visit.
Playa de los Naufragos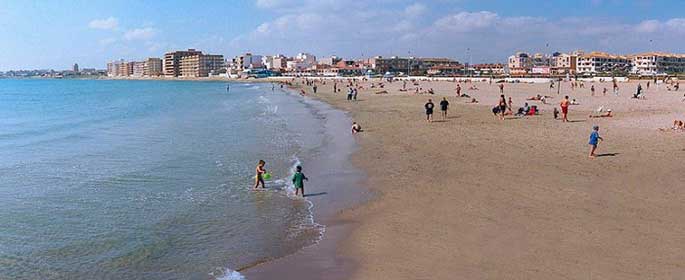 Playa de los Naufragos or "Shipwreck Beach" lies to the south of the city. This beach has a good length of 325 metres with an ample 77 metre width. This beach falls under the neighbourhood of San Roque. Although not the most popular beach in the area, it's one of the most accessible.
Los Naufragos is a Blue Flag family beach with lifeguards keeping an eye on proceedings. This is during the summer months. There is also a first aid centre here. This beach has pretty good disabled access. To the north, the beach connects to the salt conveyor belt.
It's believed that los Naufragos receives around 7000 visitors per day in the summer months.
Playa del Acequion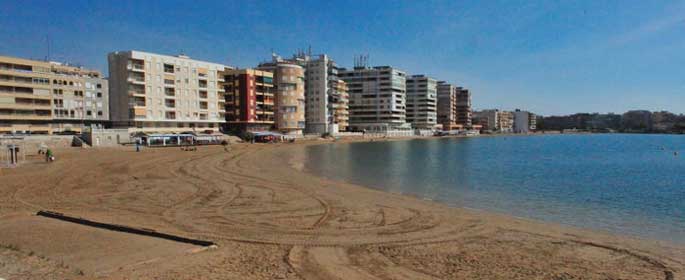 Playa del Acequion lies next to los Naufragos. This is the only beach that resides within the pretty Marina walls. Playa del Acequion is suitable for families as the water is always calm. This is thanks to the safety perimeter of the Marina.
The water here is also nice and shallow. The beach itself has plenty of well priced restaurants to enjoy a meal without packing up for the day. Playa del Acequion is the safest beach for children in the area. Well worth checking out if you have the young ones with you.
Playa de la Mata Beach Slideshow
Located a little further north of Torrevieja, Playa de la Mata is definitely worth a visit. This fantastic beach is by far the longest of the Torrevieja beaches with a length of over 2600 metres. The width of Playa de la Mata is around 47 metres on average. This makes it ideal for the many sporting activities available here.
At regular intervals along this golden sandy beach you can find plenty of beach bars. There are beach volleyball courts and even a beach football pitch. Surfing and Windsurfing are particularly popular here among various other boating activities.
Beaches of Torrevieja Map
Below is a map of the beaches of Torrevieja. Playa del Asequion is not displayed but lies next to Playa de los Naufragos to the north.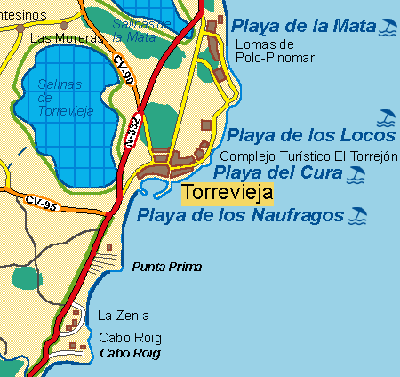 More Local Beaches
South of Torrevieja is the popular Orihuela Costa which is home to some of the best beaches in Eastern Spain. A 10 minutes drive away are the super suburbs of Cabo Roig, La Zenia and Playa Flamenca.
Playa de los Locos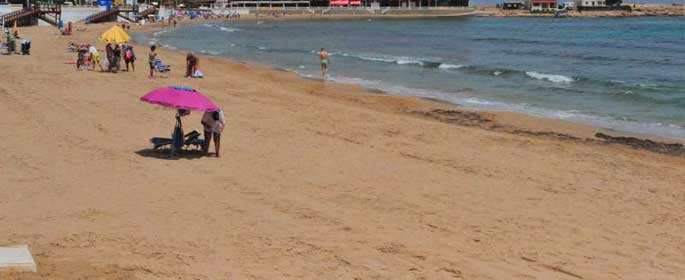 A little further north we come to Playa del los Locos, the literal translation is "Beach of the crazy people". The interesting name of this beach comes from old hospital that was located close by. The beach was also used to give it's patients some exercise.
Moving away from the name, Los Locos is a beautiful sandy beach that measures some 760 metres in length. The width is quite narrow at 27 metres. This is another great family beach that has lots of bars, restaurants and shops. Los Locos is also well known for it's sporting activities such as surfing and windsurfing.
If you visit here in summer you will see some of the most spectacular sunrises and sunsets.
Playa del Cura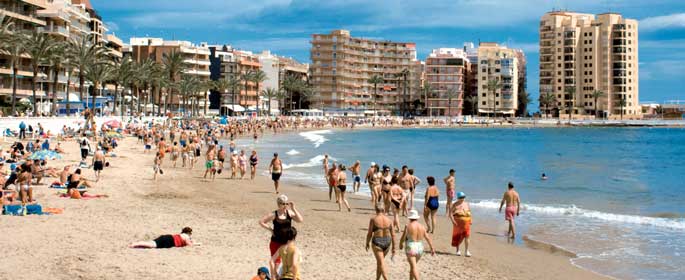 Located smack bang in the centre of town, Playa del Cura is by far the most popular of all the beaches of Torrevieja. This beach has a decent length of 325 metres but is narrow in comparison to others. The width is around 27 metres on average. Playa del Cura is popular with the tourists and the Spanish. All local communities tend to favour this beach.
Running alongside is the popular Torrevieja Promenade. This is lined with palm trees and contains a good variety of bars and restaurants. There are also ice-cream parlours and other types of businesses offering services here.