The beautiful beaches of Benidorm see over 300 days of glorious sunshine per year. Visitors here will enjoy an average summer temperature of 29 Celsius. These beautiful beaches are among the top things do do in this lively city, such is their popularity.

The Beautiful Beaches of Benidorm, Costa Blanca
The three main beaches of Benidorm extend for 6 km's of the eastern Spanish coastline. These stretch from Levante beach in the east to Poniente beach in the west. All three beaches are of the highest quality. Golden sand with the Mediterranean Sea washing up on their shores. There are also several smaller coves that help to form this section of coastline. These include Tio Ximo, La Almadrava and Mal Pas.
The coveted Blue Flag is standard for the beaches here. This is also the case for many of the fantastic beaches along the eastern coastline of Spain. Especially those which lie on the Costa Blanca such as the beaches of Benidorm.
Levante Beach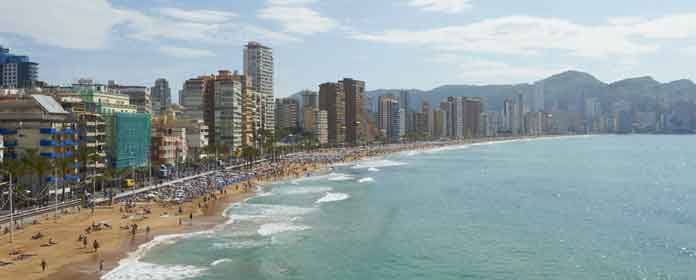 Levante Beach is the main hub for most holidaymakers. This is where most of the action takes place. The promenade stretches for miles along the coastal areas. This super promenade is full of top bars, cafes, restaurants and luxury hotels.
The beach itself extends for over 2 km's of beautiful golden sand. The width varies from 20 – 70 metres. Levante beach tends to get more sunshine than most due to it's south facing orientation. Unusual for most beaches along the eastern coast. This beach remains busy until well into the afternoon during summer. thanks to the glorious weather here. This is also due to it's extended hours of sunshine.
Levante has all the great facilities and services one would expect for a top European beach. The promenade has one access point for disabled people to enter the beach. The facilities on the beach include toilets, foot showers and a first aid centre.
On the beach there are rentals of sun loungers and parasols available. There are also various water sports rentals and activities such as cable ski. Children have plenty of options available with several children's playgrounds here.
Levante Beach Map
Levante beach lies to east of Poniente beach.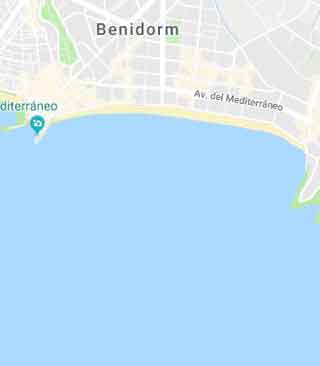 Check Hotels
Poniente Beach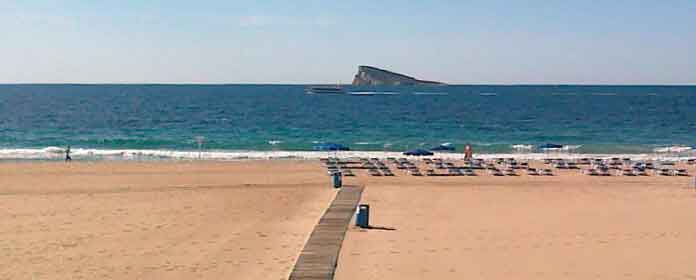 Poniente is the longest of the beaches of Benidorm with a length of over 3 km's. The average width here is 75 metres and over 100 metres in many places. Poniente is quieter than Levante beach but still enjoys high occupancy. This is especially true during the summer months.
Alongside this massive beach is a beautiful promenade. It's big business to hire a quad or motorcycle here to get around. Like Levante, this is where you will find most of the bars and restaurants. Due to the vast length of Poniente, there is an extra access point for disabled visitors.
Poniente has tons of facilities and services over it's 3 km length. There are many rental points to hire parasols and sun loungers. Children have plenty of choice with 6 playgrounds to enjoy their day. There are also many sports and activity areas along the beach.
There are up to 5 lifeguards in attendance during the summer months. This tends to become fewer at other times of the year when occupancy is lower.
Poniente Beach Map