Benidorm is a one of the top tourist destinations on the eastern Spanish coastline. This amazing city lies on the northern Costa Blanca. A mecca for party goers and groups, Benidorm is famous for it's vibrant nightlife but there is so much more to this city than partying.

Attractions & Things to do in Benidorm
Prices are reasonable here due to the fierce competition between bars and restaurants. The big clubs only open during summer and tend to be much pricier.
If you are planning a visit, there are many tour operators offering all sorts of great package deals. Benidorm enjoys a superb climate with fantastic weather almost all year round. The golden sand beaches and the Mediterranean Sea are other added benefits.
Aqualandia

Aqualandia Water Park is a firm favourite with children. This is an excellent way to keep cool whilst enjoying an exciting day out. The park offers visitors over 15 different water rides and other attractions. Some for relaxing and cooling off but the majority are for adrenaline fun. Attractions such as Verti-Go. This ride is the newest addition to Aqualandia Water Park and not for the faint heart.
With all this activity, visitors will soon work up an appetite. Aqualandia has a variety of shops and eateries offering a great choice of cuisine and snacks.
Here you can find more information about ticket prices and the deals on offer during the summer.

Terra Mitica

Terra Mitica Theme Park is an amazing place to visit. Visitors here can enjoy 4 historical themed areas set in a beautiful parkland. Each area offers a mix of exciting rides and magical shows. These shows depict various countries and their often volatile histories.
Terra Mitica offers visitors a choice of refreshments, snacks and meals in each of the themed areas. Rome alone has 4 great eateries including the huge Pica Pica with a seating capacity of 750. Here you can find more information for opening times, ticket prices and timetable.

Mundomar

Mundomar Aquatic & Wildlife Park is a firm favourite with visitors to Benidorm. This park has 20 areas to explore. Each home to a different species of animal, mammal or bird.
There are cute squirrel monkeys, mischievous meerkats, flamingos and sea lions. A favourite among most visitors, the ever smiling and adorable dolphins. Dolphin lovers can enjoy 30 minutes with these intelligent and playful aquatic mammals.

Guadalest Valley is a top tourism location one of the most picturesque places in Spain. Known as the Eagles Nest and situated about 25km inland from Benidorm. The town of Guadalest and it's beautiful valley are stunning and must visit attractions. The drive is fascinating with the road winding ever higher past the quaint village of Polop.
The Algar Waterfalls lie close to Guadalest Valley. Many visitors make a full day excursion by combining a visit to both attractions. These amazing waterfalls are located near Benidorm and make for a great day out. The waterfalls and surrounding hills offer a good combination of exercise and sightseeing.
Amazing Beaches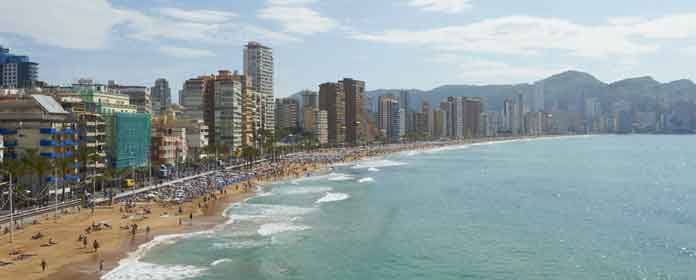 Poniente and Levante are two of the top beaches in this incredible city. Levante beach is the busiest of the two main beaches if you are here to party. This super beach has a massive promenade running alongside. This is where you will find many of the best bars and restaurants. The promenade is also the spot for some of the top hotels in the city.
Levante beach is huge with a length of over 2 km's. The width is quite narrow at 20 metres in places and up to 70 metres. This super beach also faces the south which is unusual for the eastern coast. Being a south facing beach means there are extra hours of sunshine and more time to work on that tan.
Longer still with a length of over 3 km's is Poniente beach. This beach enjoys high occupancy but it's not as busy as Levante beach. There is still a good selection of businesses here and plenty of places to enjoy a drink or some food. Poniente also boasts some fantastic facilities which includes sports and children's areas.