Andalucia is an autonomous region that lies is southern Spain. This is the largest of the Spanish regions with close to 8.5 million inhabitants.
Andalucia is a quite rocky and mountainous. This part of the country is firmly rooted in it's Spanish traditions. Tapas are more famous here than in any other part of Spain. Flamenco music is also associated with this area.
This part of southern Spain was under Moorish rule between the 8th – 15th Century. As a result you can find many famous Moorish buildings and landmarks here. Some examples are Alcázar Castle in Seville, Córdoba's Mezquita and Granada's Alhambra Palace.

The popular Spanish coastal area the Costa del Sol lies in southern Andalucia. Here you can find the popular tourism cities of Malaga and Marbella. Granada and Seville lie further to the north. The southern coast boasts some of the most beautiful beaches in Spain along it's 150 km coastline.
Famous Andalucians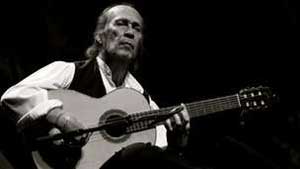 Andalucia consistently produces people that achieve great fame in their respective professions. Paco de Lucia (picture above) was arguably the greatest Flamenco guitarist that has ever lived until his recent death. The painter, artist and sculptor Pablo Picasso represents Andalucia as one of the many great Spanish artists. The top actors include Antonio Banderas who was born in Málaga. David Bisbal and Estrella Morente are two other leading musicians from southern Spain.