Spanish food is famous worldwide and during our time in Spain we have sampled many of the top dishes. Over the last 15 years we have come to know and love much of the cuisine here. If you enjoy learning the local culture of this beautiful country then sampling the delicious food is essential.

The Best Spanish Food And Traditional Dishes of Spain
Below we are going to share our experiences with you but with a twist. We are not only going to tell you the best Spanish dishes, we will break that down into regions. We will feature the most famous Spanish food per region and give examples of more dishes. This way you will know what to try depending on where you go

Meat & Seafood Paella, Valencia
We will start with Paella because it's the most famous Spanish dish and it's also from our area. Paella is the number one dish of Valencia which comes in many varieties. This is a rice-based dish which usually contains either fish or meat. It's common to mix the two together (mixed Paella) or have one or the other. It's also common to smoke this dish over wood to leave an authentic smokey taste.
The typical meats used in a meat Paella here are chicken, rabbit or both. Rabbit is the traditional meat of the local dish served with beans and peppers. Onions, garlic, olive oil and chicken stock are more typical ingredients used.
The seafood Paella usually contains a combination of mussels, clams, prawns and calamaris. Of course, there are many other things you can add but those are the most common.
Sopa Castellana (sopa de ajo), Castilla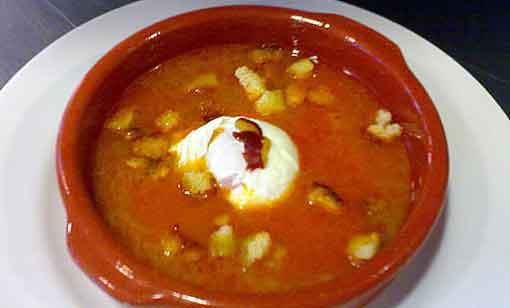 Sopa Castellana or Sopa de Ajo (garlic soup) is a personal favourite of ours. This is a famous dish from Castilla but you also find this ancient recipe all across Spain. Sopa Castellana is so easy to make and cheap also. This soup is not only delicious but is one of the best hangover cures you will find.
This video by Chef John is a great example of how to make this super Spanish food.
More popular Spanish food from Castilla includes Cordero (lamb) and Cochinillo (suckling pig).
How To Make Sopa Castellana?
You start by heating some olive oil and toss in plenty of garlic which you chop fine. It's best to cook on a low heat for a few minutes to bring out the flavour of the garlic. Don't cook the garlic on a high heat, you don't want the garlic to be bitter or fried.
The next step is to add the signature ingredient which is paprika (pimentón dulce). How much paprika you use will depend on taste, 1 – 2 teaspoons is normal. You can also chop some strong Spanish ham at this stage to add to the flavour. You make cubes from several slices of bread which you toast in the oven. Remember to drizzle with a touch of olive oil and toast until crunchy.
You then add the toasted bread to your mix of olive oil, garlic, paprika and ham. Mix the bread in well so it absorbs the flavours before adding a chicken stock. Turn the heat up now for around 20 – 30 minutes and season to taste.
The final step is to poach an egg or two in the soup which is where it goes wrong for us usually :-). (We have a better success rate by poaching the eggs separate and adding after).
Pulpo a la Gallega – Polbo á Feira, Galicia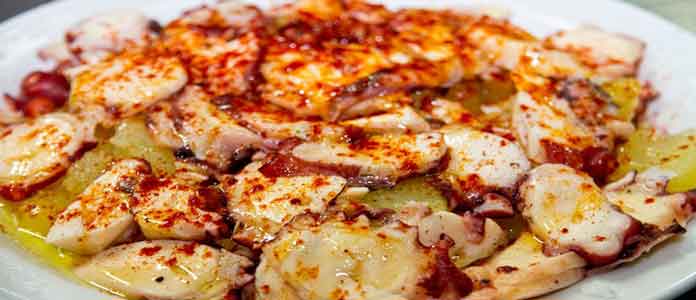 We would like to give special thanks to our friend Dario for introducing us to Pulpo a la Gallega. Known as Polbo á Feira also in Galicia where this dish is famous.
Pulpo a la Gallega is a dish made of octopus which they boil and season with salt and paprika. Polbo á Feira means octopus at the fair in Gallego, an official language in much of Galicia. This meal became famous for it's production at cattle fairs along the Costa Verde in northern Spain.
The dish usually consists of octopus tentacles but some eat the head also. After boiling for around an hour, they add course salt and season again with paprika. They then add olive oil before serving with bread and potatoes. Patatas Bravas is a common addition to this popular Spanish food.
More popular Spanish dishes from Galicia include Lacon con Grelos (ham with greens) and Angulas (baby eels).
Gazpacho, Andalucía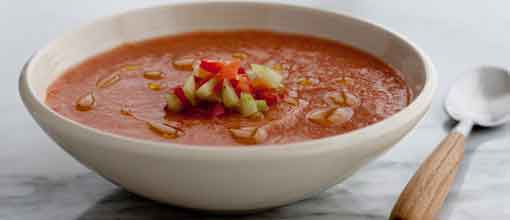 Trying Gazpacho for the first time was an interesting experience. We don't recall ever sampling a cold soup before but you are missing out if don't try it. Gazpacho is a blend of mixed vegetables which includes tomato, cucumber and garlic. Not everyone will blend all the vegetables, it depends on how you like your soup.
Usually salt, vinegar and other types of seasoning add to the flavour. It's also common to add cold water to your mix to water it down a touch. When you are ready to serve your soup it usually comes with a drizzle of olive oil on top. Most will serve using bowls but a glass is not uncommon either.
This soup is from Andalucia but most of Spain eat this or have a variation. The most common time to eat Gazpacho is summer when it's very hot. This is one of the most refreshing things you can eat in the height of summer. It can approach 120 F in this part of Spain and this super Spanish food is always welcome.
More famous Spanish Food from Andalucia includes Pescaditos Fritos (small fried fish) and all types of olives.
Tortilla Española, Central & Northern Spain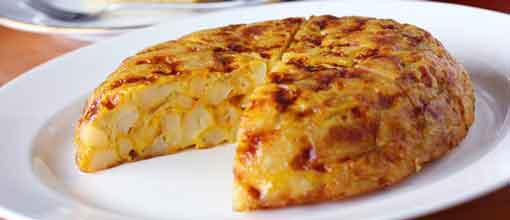 Another favourite Spanish food of ours is Tortilla Española, one of the most famous dishes of Spain. This dish is a bit like an Omelette which is popular throughout the whole country, especially northern Spain. You will find this dish in most of South America also. The main ingredients for this dish are eggs and potatoes.
There are many different variations and ways to cook Tortilla Española. We will highlight one of the most traditional methods and ingredients we use. Peel several potatoes, slice thin and season with salt. Add a good size onion and cook on a medium heat in olive oil until soft.
You don't want to brown or fry the potatoes at this stage. Next whisk around 6 eggs in a bowl and season with salt and pepper. Add the eggs to the potatoes and either fry or oven cook. Frying is quicker and tends to be the way most produce their Tortilla. Peppers and garlic are other common ingredients for this dish.
More super Spanish dishes from central Spain include Rabo de toro (oxtail, Salamanca) and Asados de Cerdo (roast pork, Extremadura).
Patatas Bravas, Madrid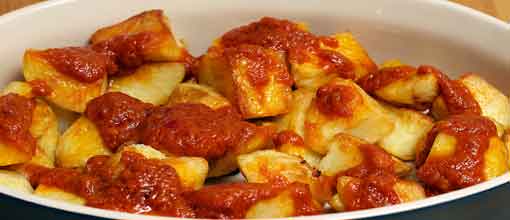 Patatas Bravas are an appetizer that hail from the capital city of Madrid. You find these all over Spain with different variations and flavours. These delicious little snacks are one of the top tapas you get with your drink. Tapas for those unsure are usually a side of food you get for free when buying a drink. This part of Spanish culture stretches back hundreds of years.
Patatas Bravas are potatoes usually cut into small squares or triangles. This filling snack usually comes with a spicy tomato sauce. The sauce is not that hot, only a little tangy in general. There are some places that offer this snack with a hotter sauce (salsa picante). You may also get your tapa with chorizo or something extra on top if you are fortunate. Patatas Alioli (garlic patatoes) are also quite common in some parts of Spain.
Fabada Asturiana, Asturias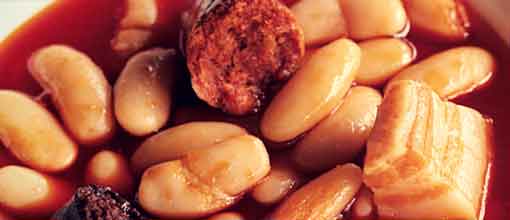 Fabada Asturiana as you may has guessed is from Asturias in northern Spain. This is the only meal on our list that is not to our liking (due to it's richness) but needs including. This is one of the most famous dishes from Asturias that you will now find all across Spain. Fabada Asturiana is a type of stew which contains white beans and different types of meat.
The main meat ingredients are bacon, a shoulder of ham and morcilla (black pudding). Saffron is another ingredient that you will often find with Fabada Asturiana. This is very much a meal you would eat in the winter, like most stews. Northern Spain tends to get much colder than the south so stews are much more common. This stew usually comes as a starter but can also be a main meal if you add extra.
More Delicious Spanish Food and Desserts
Below are a few more of the Spanish food dishes and desserts we have tried in the past. Do not leave Spain without trying Gambas al Ajillo at least once!
Gambas al Ajillo, Coastal Areas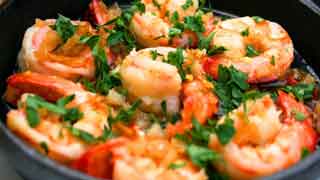 If there was one Spanish tapa we could single out it would be Gambas al Ajillo. Garlic prawns or shrimps are one the oldest and most famous tapas in the bars. This is especially true of the coastal areas of Spain. There is no known origin for Gambas al Ajillo but they are more popular near the sea for obvious reasons. Some prawns or shrimp, olive oil, garlic and lemon juice is most of what you need to make this delicious tapa. A dash of brandy or sherry and some parsley on top would be perfect.
Empanadas, Leon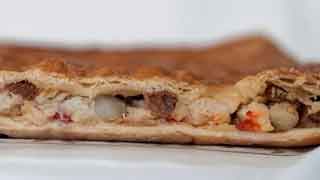 Empanadas are one of the top dishes from Leon in northern Spain. These are very different to the traditional piping hot empanadas from South America. The empanadas from Leon are also popular in Galicia and more like slices. You make your dough and can include many different fillings and combinations. Peppers, onions, garlic, tomatoes and olives are a few of the fillings available. A personal favourite is tuna empanadas, or Empanada de Atún in Spanish.
Churros, Origin Unknown
Churros are one of the top Spanish desserts whose origin is unknown. This dessert is a type of fried dough which are like fritters. Churros are not only a famous dessert here but one of the easiest to make. All you need is a cup of flour, a cup of water, sugar, salt, baking powder and vegetable oil. Apart from that it's a little cooking oil and making your dough to fry. Don't forget your chocolate to dip your Churros in if you are not on a diet.