Algar Waterfalls is also known as Les Fonts de l'Algar. Located only 15 km from the busy city of Benidorm, this is a must visit attraction. A picturesque paradise and one of the most beautiful natural waterfalls in Spain.
The Valencian government has declared the waterfalls and surrounding area a Protected Wetland. The Algar Falls offer a great combination of exercise and sightseeing. For those looking to escape the busier attractions of Benidorm, a visit to Algar Waterfalls is a must.
Map Location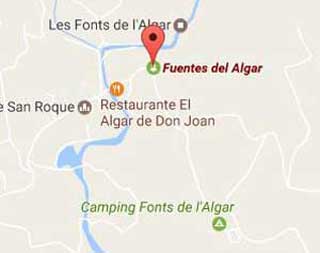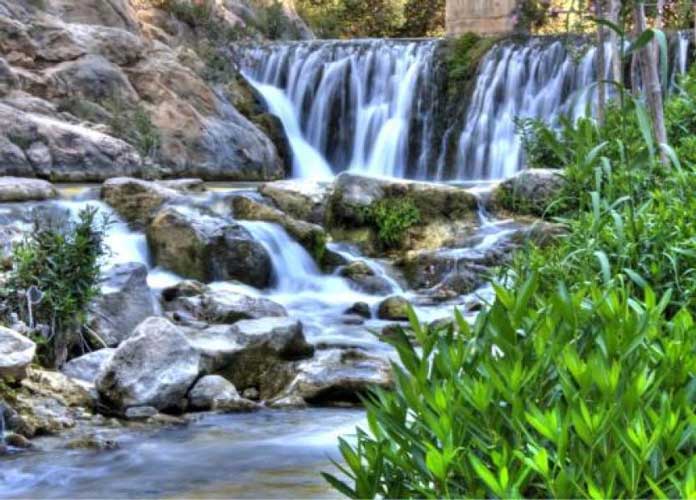 Algar Waterfalls, Benidorm
Some visitors choose to bring along a picnic or packed lunch to enjoy in one of the scenic resting spots. Many choose to spend the night in this beautiful setting. The Algar Falls also offer excellent camping facilities.
The hills and walkways around the river can be quite steep. A sturdy pair of hiking boots or trainers is advisable. Remember to bring along a towel for drying off after a cooling swim in one of the many rock pools.
Restaurant & Facilities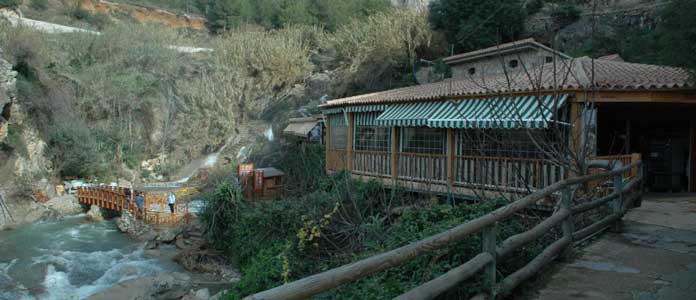 There are several restaurants near the waterfalls but also one on site. The fantastic Restaurante Les Fonts (picture above). This restaurant offers al-fresco dining with stunning views of the falls and valleys.
Algar Waterfalls is an important conservation area. They offer environmental education through its tourist office. Here there is also an environmental museum and botanical/cactus garden. The cactus garden has a vast array of different cacti species. Algar Waterfalls has a souvenir shop, first aid facilities, toilets and a parking area for those wishing to drive.
Combine Algar Falls with Guadalest Valley

Some visitors choose to spend the entire day wandering around the Algar waterfalls. An alternative idea is to split your day with a visit to the breathtaking Guadalest valley.
Guadalest valley lies only a short drive from Algar waterfalls. You can check below to find out all the information about Guadalest.
Cactus Garden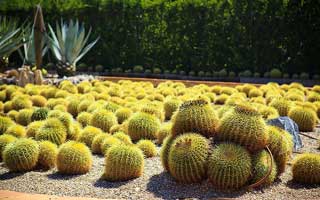 Arriving By Bus From Benidorm
If you are looking to take the bus from Benidorm to Algar Waterfalls then it's straight forward. The Llorente number 18 bus leaves from La Cala at 9:55am and collects you at 17:10pm.
The journey takes around 1 hour and 20 minutes due to the route it takes. The journey takes you through some beautiful Spanish villages. These includes Polop and Callosa that offer more picturesque scenery to enjoy. Tickets are 3.75 € each way which is very reasonable.
Check Hotels
Fort of Bèrnia Walking Route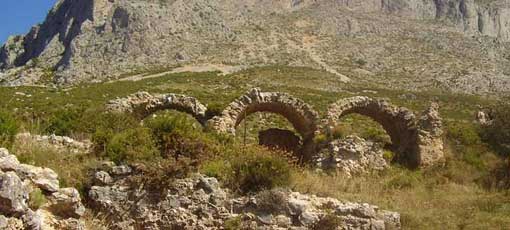 For more exercise and incredible views then check out the Fort of Bèrnia walking route. Those that have an interest in Spanish history and ancient buildings please read on. This route takes you to historical building and even a cave.
The walking route links Algar waterfalls to Fort of Bèrnia. The fort was a construction dating back to 1562. King Philip III of Spain ordered it's destruction but there are still visible remains. From this vantage point you can see the Calpe to Alicante coastline. You can also see the Aitana and Xortà mountain ranges. On a clear day the island of Ibiza is visible off the eastern coastline.
Camping Facilities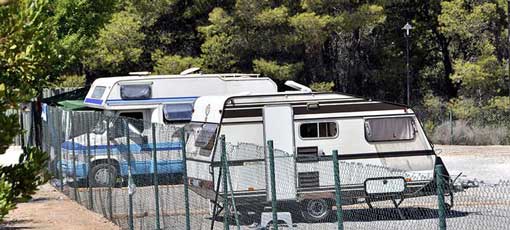 Close to the falls are excellent camping facilities if you want to stay a few days. There are over 100 plots to pitch your tent and 40 plots for caravans. The caravan plots have water points and light sockets to make your stay more comfortable.
The camping complex has many other essential facilities and some extras also. There are bathroom and shower facilities as well as a laundry room. The sandwich bar is open from 10 am until 9 pm and there is also a handy supermarket. A few more things of interest are picnic areas, barbecue points and a children's play area.
Algar Falls Opening Times & Ticket Prices 2021
Algar Waterfalls has different opening times depending on the time of year you plan to visit, below is the opening and closing times for 2021.
Ticket prices vary between 1,50 – 5 € depending on the time of year and age. This type of tourist attraction often changes their timetable and prices. It's always advisable to check the opening times and prices on the official website.
January – Open from 9 am – 15:30 pm.
The exceptions are 1st and 6th of January when the closing time is 17:30 pm.
February – Open from 9 am – 15:30 pm.
March – Open from 9:30 am – 17:30 pm.
Open an extra 30 minutes until 18:00 pm from 26th -31st March.
April and May – Open from 9:30 am – 18:00 pm.
June – Open from 9:30 am – 19:00 pm
July 1st – September 11th
Open from 9:00 am – 20:00 pm.
12th – 30th September
Open from 9:00 am – 18:00 pm.
October and November
Open 9:30 am – 17:30 pm. Closed from the 22nd – 31st October.
December Open 9:30 am – 15:30 pm.
Exceptions are 24-26th and the 31st of December when Algar Waterfalls is open until 17:30 pm.
Guadalest Valley & Village

Guadalest Valley lies some 20 km's inland from Benidorm in southeaster Spain. This magical destination offers some of the most breathtaking views. The village here is one of the most picturesque in this part of Spain.

The Breathtaking Guadalest Valley Near Benidorm
Set high up on a pinnacle and carved out of a mountain top. The tiny village of Guadalest has a population of only 200. Guadalest Valley is still one of the most popular tourist attractions in Spain. Over 2 million visitors come here each year.
The drive inland from Altea is fascinating. The road winds ever higher past the picturesque village of Polop. It then emerges high up over Guadalest.
Many choose to spend the entire day enjoying the beauty of Guadalest. An alternative idea is to combine your day with a visit to the incredible Algar Waterfalls. These majestic waterfalls lie only a short drive away from this majestic location.
One of the most famous landmarks is the Penon de La Alcala tower which rises high above the village. This tower affords a commanding view of the valley below.
Guadalest Castle, Village and Museums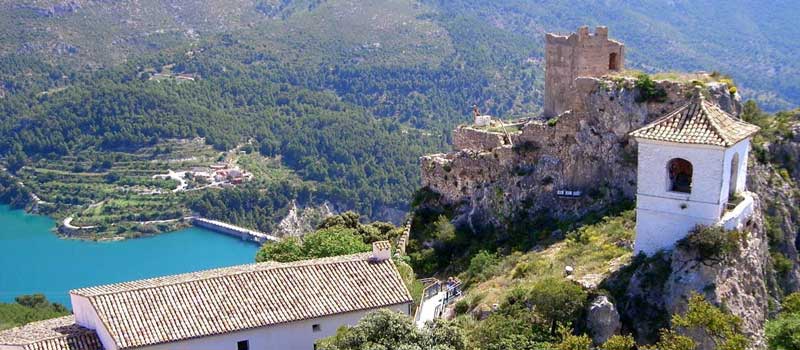 Passing through the tunnel will take you to the castle and village. This place is a delight with craft and souvenir shops, several cafes and small museums. It's definitely worth checking out some of the amazing miniature model villages. You can visit the Museo de Antonio Marco to see many examples of these models and other crafts.
For a few Euros you can take a tour of the castle and ramparts. These areas offer stunning views of the surrounding valley down to the Bay of Altea. Guadalest has been declared a Monument of historical and artistic value. This is a fantastic day out for all the family.
Map of Guadalest
The map of Guadalest below is interactive which allows you to zoom in and out. Why not make the short trip inland and escape the noise of popular Benidorm for a truly unforgettable experience?