Spanish Festivals are a way of life, especially in the smaller cities and towns of Spain. The pace of life here is much more sedate than some European neighbours. Spaniards love a good party or "fiesta" and there are many to celebrate all matter of things. Holy Week, fireworks and tomatoes are a few of the typical festivals here.

Different Types Of Festivals in Spain
Many festivals in Spain have a religious theme but there are some exceptions. Semana Santa or Easter Week is one of the biggest celebrations of the year. The finest dishes of Spanish food and drink also play a big part in the many different fiestas here. This is especially true of Paella which is the national dish.
Semana Santa Festival, Easter Holy Week

Some Spanish festivals are regional depending on the area of the country. Semana Santa is one fiesta that the whole country celebrates. This is much the case across the western world. During holy week, some of the largest and most colourful fiestas take place. Filling the streets are hundreds of floats, marching bands and processions. Everywhere you look will be depictions or images of Christ and the Virgin Mary. The mass burning of candles and incense is another big feature of holy week.
Santa Faz Pilgrimage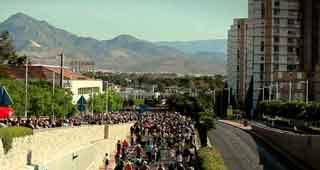 This festival is one of the biggest in Alicante which takes place on the second Thursday after Easter. The Santa Faz Pilgrimage can see as many as 200,000 people take part. This involves a pilgrimage to the Monasterio de Santa Faz in the city centre.
Lately it has become popular to hold within four months of the pilgrimage, a party on the beach of San Juan. This tends to be the younger people who bring music and other activities.
Search Hotels
Top Spanish Festivals In Valencia

Las Fallas De Valencia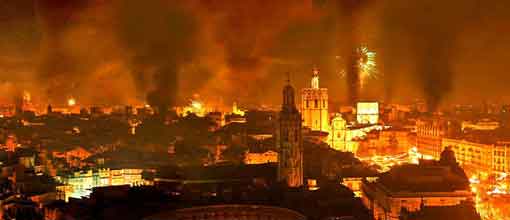 Las Fallas De Valencia is a huge 5 day celebration of fire and sees the usually quiet city of Valencia swell in numbers as up to 3 million revellers take to the streets to enjoy this amazing pyrotechnic display of fireworks and huge burning puppets, known as Ninots. Some of these 100 plus, lifelike puppets are so big they need cranes to move them. The Ninots can also be pricey and cost up to 65,000€ and can take months to build.

La Tomatina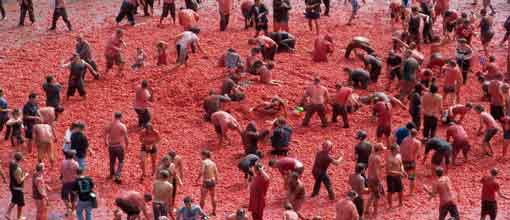 La Tomatina Festival is one of Spain's craziest celebrations that sees the town of Buñol literally painted red. Referred to as the largest tomato fight in the world, the town's population of 9,000 swells to around 50,000 people. The Spanish festival of La Tomatina has been a tradition in the town of Buñol since the mid 1940's and to this day nobody is certain how La Tomatina Festival originated.