La Zenia is a small tourist suburb located on the eastern Mediterranean coastline. This is one of the super resorts that belong to the Orihuela Costa. Both are part of the southern Costa Blanca or "White Coast" in English.
La Zenia is surrounded by several other popular resorts. Playa Flamenca is few minutes to the north of here with Cabo Roig to the south. Villamartin is a 5 minutes drive west with the Mediterranean Sea to the east. A further 10 – 15 minutes drive north from La Zenia is the beach resort of Punta Prima and the City of Torrevieja. Each of the mentioned resorts enjoy fantastic weather. The climate here yields some 320 days of sunshine per year on average.

Local Information & Things to do in La Zenia
This beautiful suburb is close to everything good on the Orihuela Costa of the Costa Blanca. There are plenty of activities and things to do in La Zenia and the surrounding resorts such as Playa Flamenca which is a few minutes north. The coastline is full of golden sandy beaches. Many of which earn Blue Flag certification every year. Chiringuitos (beach bars) provide services all along the coastline. Serving up drinks, refreshments and meals.
La Zenia has plenty of bars, restaurants and a fabulous shopping centre. The Saturday market is only a few minutes down the road. Below is a little information about some of the top things to do here during your visit.

Golden Sand Beaches

The La Zenia beaches are very popular with both locals and holidaymakers alike. There are actually 2 beaches to choose from with hotel separating the two. These beaches have grown in popularity since the construction of Zenia Boulevard. This super shopping centre has brought much needed jobs and growth to the area.
The largest and most popular beach has a length of around 350 metres and a average width of 60 metres. There is also good access for wheelchair users from the main road and promenade.
The main beach here while beautiful sometimes has a strong undercurrent. With this in mind we would like to stress the importance of being careful when swimming here. There are always lifeguards in attendance in summer but this beach gets very busy.
Bars & Nightlife
The Randy Leprechaun is one of the many great bars and restaurants in La Zenia. A personal favourite of this website. The staff do a great job here making you feel welcome. They provide excellent food, drinks and a warm friendly atmosphere. There is also a quiz night each week if you enjoy that sort of thing.
Check Hotels
Restaurants In La Zenia
Just a short distance from the Randy are many more great bars and restaurants. Paddy's Point, Gogarty's and Celtic Drop are a few worth checking out. A personal favourite of this website is the new Brutale Bistro bar and restaurant over at Via Park 1. Here you will find friendly staff and excellent cuisine. They also have an extensive wine menu and do super cocktails. Brutale is only a short walk from the boulevard on the first floor of Via Park 1 where there is plenty of indoor and outdoor space to relax.
Zenia Boulevard Commercial Centre
Zenia Boulevard is breathtaking and a must see attraction when visiting La Zenia. This seaside resort is a suburb of the popular Orihuela Costa on the eastern coastline of Spain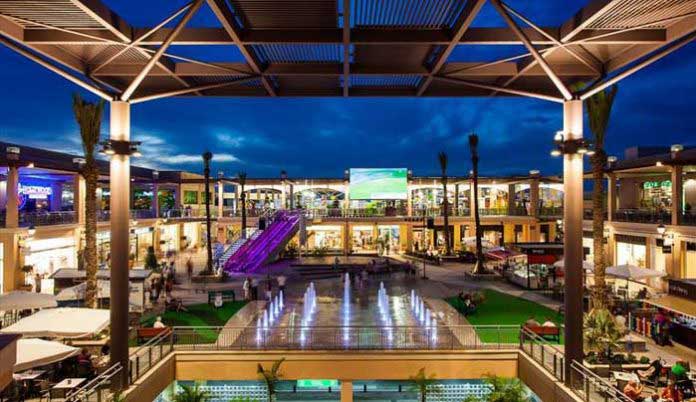 Zenia Boulevard houses over 150 of the finest shops imaginable. Here you can find most things your heart could desire. This amazing shopping centre has been well received by the local community. Many have moved to La Zenia to fill the thousands of jobs on offer. Benefiting also are the locals that were already here. The introduction of this complex has helped to raise the profile of this seaside resort.
Boulevard Shops On Ground Floor
Upon exiting the car park via the escalators or lifts you reach the ground floor of this shopping centre. This floor is where you can find most of the shops and the children's playground. There is also an entertainment area and a huge LCD television screen. The big screen shows sporting events, concerts, news and documentaries.
Every aspect of this shopping centre is well kept. There are around 90 different species of vegetation and plantation on display. All green areas and plantation are well looked after each day.
Shops & Brands
There are far too many shops to name all in this article. Some of the main shops include, Decathlon, Leroy Merlin, Al Campo, Media Markt. Conforama and the popular Primark (picture above) are two of the other major outlets here.
Like most shopping malls, La Zenia Boulevard contains shops for almost anything. This includes supermarkets, Men and Women's fashion & accessories, shoes, lingerie and sports shops. Other shops are opticians, jewellery, perfume, heath & beauty and home decoration. There are also several major electronics stores here.
During the summer months, keeping cool is very important. La Zenia Boulevard does not disappoint. The square contains a beautiful water fountain which the children love. The shops have a unique system which sprays a fine mist of water as you pass, cooling you down. The spray refreshes you to continue your progress in this shopaholics utopia.
Restaurants and Boulevard Upper Level
We have already touched on the amazing beauty of La Zenia Boulevard but only the inside of the complex. Many parts of the shopping centre offer amazing views of the Mediterranean Sea. This is also true for plenty of the bars and restaurants located on the upper level. Enjoying a fantastic meal or some drinks in one of the great establishments is only the start. Dining at many of the restaurants here offers views out to Sea. You can also listen to the entertainment provided from the square below.
La Zenia Boulevard Opening Times
La Zenia Boulevard's opening times for regular shops are from 10:00am – 22:00pm most of the year. Some do stay open later during Easter and Summer. The first floor generally opens later at 12:00 pm and closes at 01:00 am.
You can click the image below for a full size Google map and directions.
Map & Ground Floor Plan
Sponsored Links
Casino Mediterraneo
Those that are feeling lucky can slip down to the Casino Mediterraneo (picture above). Here they can chance their arm on one of the gambling tables. The Boulevard could not be better placed for many of the other vibrant suburbs on the Orihuela Costa. Most late night bars lie only a few minutes by car. Playa Flamenca CC, Via Park I and II and the popular La Zenia are all within walking distance.