Zenia Boulevard is breathtaking and a must see attraction when visiting La Zenia. This seaside resort is a suburb of the popular Orihuela Costa on the eastern coastline of Spain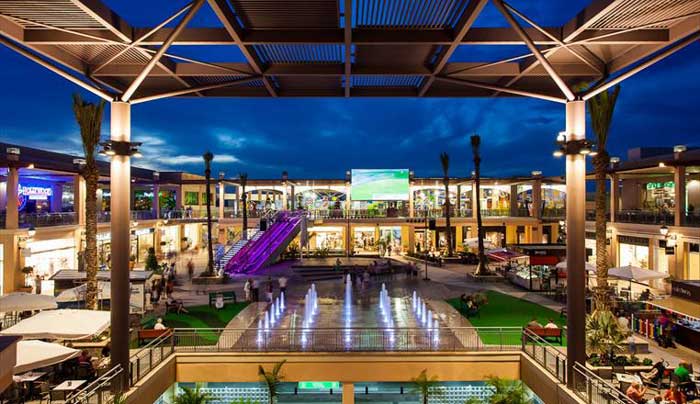 Zenia Boulevard houses over 150 of the finest shops imaginable. Here you can find most things your heart could desire. This amazing shopping centre has been well received by the local community. Many have moved to La Zenia to fill the thousands of jobs on offer. Benefiting also are the locals that were already here. The introduction of this complex has helped to raise the profile of this seaside resort.
Boulevard Shops On Ground Floor
Upon exiting the car park via the escalators or lifts you reach the ground floor of this shopping centre. This floor is where you can find most of the shops and the children's playground. There is also an entertainment area and a huge LCD television screen. The big screen shows sporting events, concerts, news and documentaries.
Every aspect of this shopping centre is well kept. There are around 90 different species of vegetation and plantation on display. All green areas and plantation are well looked after each day.
Shops & Brands


There are far too many shops to name all in this article. Some of the main shops include, Decathlon, Leroy Merlin, Al Campo, Media Markt. Conforama and the popular Primark (picture above) are two of the other major outlets here.
Like most shopping malls, La Zenia Boulevard contains shops for almost anything. This includes supermarkets, Men and Women's fashion & accessories, shoes, lingerie and sports shops. Other shops are opticians, jewellery, perfume, heath & beauty and home decoration. There are also several major electronics stores here.
During the summer months, keeping cool is very important. La Zenia Boulevard does not disappoint. The square contains a beautiful water fountain which the children love. The shops have a unique system which sprays a fine mist of water as you pass, cooling you down. The spray refreshes you to continue your progress in this shopaholics utopia.
Restaurants and Boulevard Upper Level
We have already touched on the amazing beauty of La Zenia Boulevard but only the inside of the complex. Many parts of the shopping centre offer amazing views of the Mediterranean Sea. This is also true for plenty of the bars and restaurants located on the upper level. Enjoying a fantastic meal or some drinks in one of the great establishments is only the start. Dining at many of the restaurants here offers views out to Sea. You can also listen to the entertainment provided from the square below.
La Zenia Boulevard Opening Times
La Zenia Boulevard's opening times for regular shops are from 10:00am – 22:00pm most of the year. Some do stay open later during Easter and Summer. The first floor generally opens later at 12:00 pm and closes at 01:00 am.
You can click the image below for a full size Google map and directions.
Map & Ground Floor Plan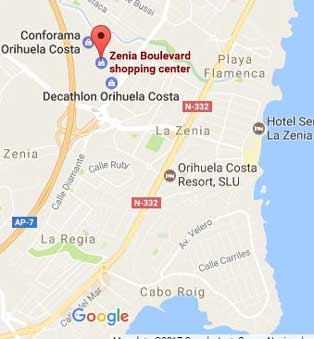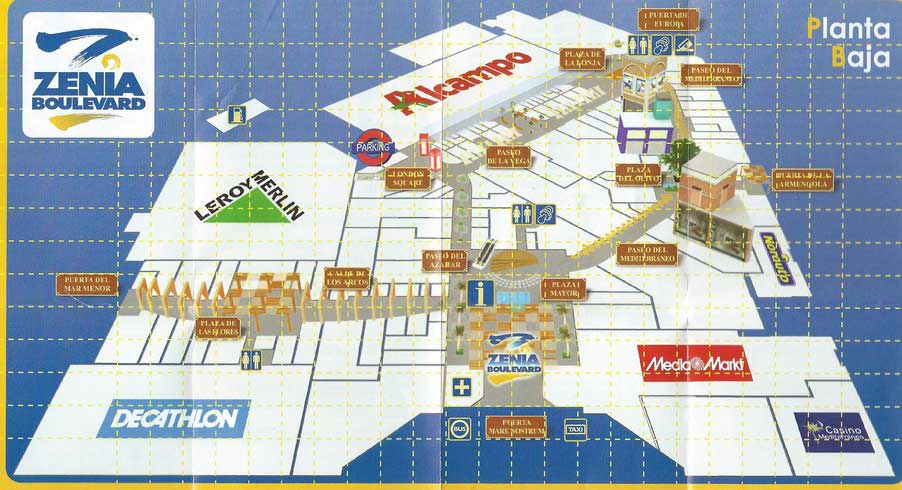 Casino Mediterraneo

Those that are feeling lucky can slip down to the Casino Mediterraneo (picture above). Here they can chance their arm on one of the gambling tables. The Boulevard could not be better placed for many of the other vibrant suburbs on the Orihuela Costa. Most late night bars lie only a few minutes by car. Playa Flamenca CC, Via Park I and II and the popular La Zenia are all within walking distance.