The vibrant nightlife in Benidorm is famous all around the world. The party atmosphere on offer here is a major reason for the high levels of tourism. Nowhere else on the Spanish mainland gets close to this popular city of eastern Spain.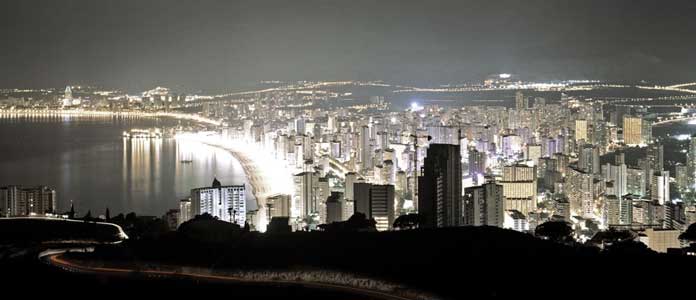 Nightlife in Benidorm, Best Bars & Clubs
By day, Benidorm boasts some of the top attractions and things to do in the country. It's at night when this place really comes alive. We have been fortunate enough to experience some of the best nightlife on offer. During our several visits, we have come to learn why so many flock here each year.
Below we list some of our favourite entertainment, bars and clubs in Benidorm. These places will keep you partying well into the night.
Top Bars & Clubs For Nightlife In Benidorm
There are many great clubs and bars to enjoy the super nightlife in Benidorm. Many of these places lie on Av de la Comunidad Valenciana. This busy strip houses pretty much all the biggest clubs in the city. If you are staying in one of the many hotels in Benidorm, a taxi will get you there for around 10 € from most places.
There are plenty of free bars and clubs around but entry into some of the top clubs is likely to cost between 10-20 €. Most places that charge for entry will offer at least one free drink or merchandise such as a t-shirt or cap. It's important to bear in mind that some of the top clubs are only open for the summer season. Below are a few clubs to look out for during your visit.
KU Discoteca

KU Discoteca in Benidorm is a firm favourite with reveller. Especially those that enjoy hardcore, techno and dance music. KU attracts the very best of the local and international DJ's through it's doors. This club has it's opening party in late June and it's closing party in early September.
This excellent venue has several rooms to dance the night away from midnight until 8 am. Outside there is a beautiful open air terrace with swimming pools and more great music. Ticket prices here are usually 15 €. The KU Website only appears to be in Spanish but there is plenty of information if you can get your head round that.
Daytona Rock Bar

Daytona Rock Bar lies on the Levante beach promenade. This is definitely one of the better places to check out at night or day. Daytona Rock Bar is an American themed bar with rock music, race cars and motorbikes. You should not let that put you off, there is plenty to like here.
We have visited this bar on several occasions and can't recommend it enough. Like most of Benidorm, the drinks are s reasonable price. There is regular live music and good entertainment for everyone.
The staff here are friendlier and more professional that most places. If you want to take a look around the bar the virtual tour is worth checking out. The tour shows the beautiful Levante beach and the Mediterranean Sea which is a few metres away.
Check Hotels
Hippodrome Disco

Hippodrome Disco is a lively bar/club that lies away from the strip on Avenida de Mallorca. Opening it's doors at 8 pm, Hippodrome stays open all night until 8 am in the morning. This place is well known for having good DJ's with great music. There are also plenty of girls dancing with little clothing on the tables and terrace. Hippodrome screens lots of live sports such as the football and late night boxing. For more information, the Hippodrome Facebook Page contains plenty of information and photos.