Cooling water and hot sun tend to go hand in hand when you set off for your summer holidays. The water parks in Spain and fantastic climate provide both to millions of visitors per year.
Taking a trip to the local aqua park is a great way to enjoy some fun with all the family. Spain has some of the very best water parks in the world. Whether it's the coastal areas or one of the Spanish islands, you will never be far from some aquatic fun.
Most of the water parks on the mainland tend to be open for the summer months only. This is also the case for the Balearic islands off the eastern coast of Spain. The Canary Islands stay warm all year round so the aqua parks are usually open for business.
Best Water Parks In Spain
Below we provide an insight into the best water parks in Spain to check out. We also give an idea of timetables and pricing for each.
Siam Park, Tenerife

Siam Park in Tenerife is the daddy of the water parks in Spain. This Thai-themed aqua park is a serious contender for best in the world. Siam Park oozes beauty and class, you could almost mistake yourself for being in Thailand.
Siam Park lies close to the resort of Costa Adeje on the southwestern coast of Tenerife. This super water park is open all year round thanks to the tropical climate of the Canary Islands.
Currently there are 18 spectacular water attractions to choose from in three categories. Relax, Family and Adrenaline form these categories which contain aqua fun for everyone.
Below you can see which attractions belong to which category.
Relax
Mai Thai River. Siam Beach. Cabanas. Champagne Club. Floating Market. Sea Lion Island.
Family
Naga Racer. Sawasdee. Jungle Snake. The Lost City. The Wave Palace. The Giant.
Adrenaline
Kinnaree. Mekong Rapids. Dragon. Tower of Power. The Volcano. Singha.
Siam Park Ticket Prices
The standard price for one day tickets is 24 € for children and 35 € for adults. There are discounts and offers available that grant you special access and extras. Please free free to visit here for the latest offers and discounts.
Top Water Parks in Mainland Spain
Aqualandia, Benidorm

Aqualandia water park in Benidorm is another of the best water parks in Spain. This aqua park lies on the eastern coast of the Spanish mainland. Aqualandia boasts over 20 fantastic water rides. The newest addition here is Verti-Go, one of the tallest slides in the world. Verti-Go has two slides which propel you at an average speed of 100 km's per hour.
Aqualandia is set among landscape gardens and trees, a beautiful location. It's also twinned with the popular Mundomar aquatic marine park which lies next door. Combining a day trip to these two super attractions in Benidorm is much cheaper than paying for individual tickets.
There are many services available here such as a coffee shop, pizzeria and burger bars. There are also several picnic areas if you choose to bring a packed lunch.
Below you can see which attractions belong to which category.
Infantile
Laguna. Geyser. The Amazon. Adventureland. Grand Jacuzzi. Wave Pool.
Moderate
Smooth Slides. Zig-Zag. Splash. Niagara. Rapids. The Mini Zig-Zag. Black Hole. Big-Bang.
Radical
Aqualandia Ticket Prices
The tickets prices here are 37 € for adults and 28 € for juniors. There are big discounts if you choose to go for the afternoon only. You can take advantage of great deals if you choose to visit Mundomar also. Purchasing tickets on their website will also entitle you to big savings.
Aqualandia Opening Times 2020
Aqualandia tends to open for 4 months of the year. The grand opening is usually in early June. The closing time for this water park is the end of September.
Verti-Go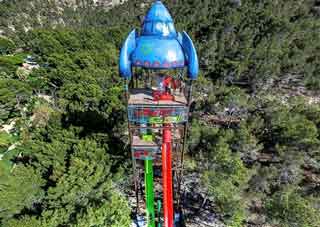 Verti-Go is one of the tallest water slides in the world. The two slides propel you at 100 km's per hour.
Parque Acuático Aquopolis, Torrevieja

Aquopolis Water Park in Torrevieja is the leading aqua park on the southern Costa Blanca. Currently there are 17 super water rides to enjoy here.
What places Aquopolis up there with the best is the entertainment extras when you visit. This super water park provides exercise and water aerobics. They also make a special effort in entertaining the young ones. Here you will find a VIP area and lots of places to buy food and drinks.
Aquopolis tends to open for 4 months of the year like Aqualandia. The opening is usually in early June with the closing date being late September.
The water attractions here come in 3 categories. High Excitement, Moderate and Children's. Below are the main rides in each category.
High Excitement
Speed. Kamikaze. Boomerang
Moderate
Rapids. Polinesia. Cascada. Amazonia River. Tirolina. Zig Zag. Wave Beach. Speed Race. Jacuzzi. Blue Lagoon. Black Hole.
Children's
Charmed Lake. Mini Zig Zag. Mini Park
For more information please visit our Aquoplis Torrevieja page. This provides maps, ticket prices and opening times.
Aqualand, Torremolinos

Aqualand in Torremolinos is one of the best water parks in southern Spain. This aqua park lies on the Costa del Sol, another of the top Spanish Costas.
Many of the water attractions here are like those of Aquopolis. The only notable difference is this park tends to stay open for longer. Aqualand usually opens towards the end of May. The end of season comes around the middle of October. This coincides with the temperature dropping.
The tickets for Aqualand are quite a bit cheaper than other water parks. The normal price for and adult is 28 €. The price for juniors is 19 €.
The main water ride categories here are Adrenaline, Kidz World and Family Fun. Below is what attractions belong to which category.
Kidz World
Childen's Paradise. Acuatic Mushoroom.
Adrenaline
Boomerang. Crazy Cones. Anaconda. Multipista. Twister. Kamikaze. Rapids. Crazy Race. Black Hole. Speed Racer.
Family Fun
The Aqualand Torremolinos have an informative website. Here you will find a good deal more information.
PortAventura Water Park / Costa Caribe Aquatic Park

PortAventura water park is the new name for Costa Caribe aquatic park. Here there are 17 thrilling water attractions over more than 50,000 m2.
This aqua park is one of the many theme parks offered by PortAventura on the ever popular Costa Dorada of northeast Spain. This super destination in northeast Spain welcomes around 5 million visitors per year.
The water attractions here come in 3 categories. Intense, Moderate and Family Fun.
Costa Caribe Opening Times
Costa Caribe Aquatic Park was due to open on the 26th May in 2020 which is subject to change due to Covid-19. This water park usually closes around the 16th September. You can find all the latest promotions and tickets prices on their website. You can also find plenty of information about the other PortAventura theme parks.
More Great Water Parks in Spain
There are well over 50 fantastic water parks in Spain. Below we provide a snippet about several other aqua parks to watch out for. These include the water parks of Fuerteventura, Gran Canaria and Magaluf.
Fuerteventura Water Park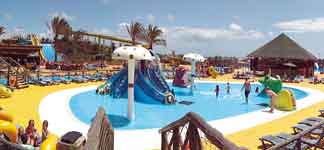 Known as Acua Park, Fuerteventura water park lies in the resort of Corralejo. The small town of Corralejo lies on the northeastern tip of Fuerteventura.
Acua water park boasts 14 water attraction over an area of 25,000 m2. There is a good choice of dining options while you are here and a children's club.
Please visit the Acua Water Park website for more information.
Aqualand, Maspalomas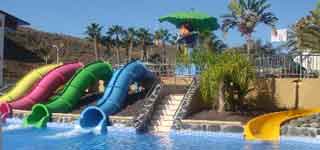 Aqualand lies in the popular resort of Maspalomas in Gran Canaria. This water park is opposite the super Palmitos Park, another top attraction of Gran Canaria.
More water attractions have been added in 2017, currently there are 19 water rides. There are plenty of food and drink services available and a handy gift shop.
More information available on the Aqualand Maspalomas website here.
Magaluf Water Park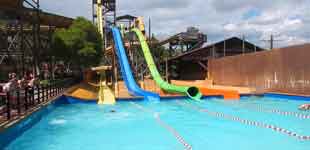 This water park which lies in Magaluf. The only western themed of the water parks in Spain. Known as Western Park, one of the better aqua parks in Majorca.
Magaluf Water Park opens at the end of May and closes towards the end of September. There are over 15 water attractions to entertain you during your visit here.
Please check the Western Park Website for prices and opening times.