Situated in the north of the beautiful Costa Blanca, Benidorm is a city famous for it's party atmosphere and fabulous night life. Although the city is a Mecca for young party goers and groups celebrating Stag and Hen parties, there are a huge amount of attractions & things to do in Benidorm for all age groups.


Attractions & Things to do in Benidorm
With the fierce competition between bars, restaurants, takeaways and night clubs, prices are extremely reasonable.
If you are planning a visit to this popular location, there are many tour operators offering all sorts of great package deals. Benidorm enjoys a superb climate with fantastic weather almost all year round, it's close proximity to the Mediterranean Sea and the beautiful sandy beaches are just a few more  of the great reasons to this pay a visit to this magical location.
Top 5 Things to do in Benidorm
Below we have compiled a list of what we consider to be the top 5 attractions and things to do in Benidorm to keep you busy during your visit. The orange writing indicates clickable text that will take you to individual pages for that given attraction for more information.
Aqualandia Benidorm



Aqualandia Water Park is a firm favourite with the kids and an excellent way to keep cool whilst enjoying an exciting day out. The park offers visitors 15 different attractions, some for relaxing and cooling off but the majority built for maximum adrenaline fueled fun such as the aptly named VertiGo. The ride is a new attraction to Aqualandia Water Park and not for the faint hearted !! With all this activity, visitors will soon work up an appetite, and the park has a variety of shops and eateries offering a great choice of cuisine and snacks. There is a minimum height restriction on most of the rides with some allowing children accompanied by an adult. Here you can find more information about ticket prices and the deals on offer during the summer.
Terra Mitica



Terra Mitica Theme Park is an amazing place to visit, where visitors are whisked away to 4 historical themed areas set in beautiful parkland. Each area offers a mix of exciting rides and magical shows, depicting the various countries and their often volatile histories. Terra Mitica Theme Park offers visitors a wide choice of refreshments, snacks and meals in each of the themed areas. Rome alone offers 4 great eateries including the huge Pica Picae with a seating capacity of 750. Here you can find additional information for opening times and calendar which highlights all the days the park is open.
Mundomar



Mundomar Aquatic & Wildlife Park is a firm favourite with visitors to Benidorm. The park has 20 areas to explore, each home to a different species of animal, mammal or bird. There are cute squirrel monkeys, mischievous meerkats, flamingos, sea lions and of course, a favourite among most visitors, the ever smiling and adorable dolphins. Dolphin lovers can enjoy 30 minutes with these highly intelligent and playful aquatic marine mammals at the super Mundomar in Benidorm. Visitors to Mundomar can either choose a leisurely day exploring the different areas of the park and attend one of the fantastic shows where you can watch the dolphins or sea lions perform their amazing tricks and acrobatics.
Top Places To Visit Near Benidorm
Guadalest Valley



Guadalest Valley is one of the most popular tourist attractions in Spain. Known as the Eagles Nest and situated about 25km inland from Benidorm, Guadalest Valley is stunning. The drive inland is fascinating with the road winding ever higher past the quaint village of Polop before emerging at the old castle, high above the valley. The views from the castle ramparts and Penon de la Alcala Tower are breathtaking and reach all the way to the Bay of Altea. For a few Euros you can take a tour of the castle and ramparts or venture through the tunnel to explore the castle village and small museums. The village offers a selection of souvenir & shops and several cafe's where visitors can enjoy a cool drink or snack. Guadalest has been declared a Monument of Historical and Artistic Value and is a fantastic day out for all the family.
Algar Waterfalls


Algar Waterfalls is situated not far from Guadalest Valley and many visitors make a full day excursion by combining a visit to both attractions. These amazing waterfalls are located near Benidorm and make for a great day out. The waterfalls and surrounding hills offer a good combination of exercise and sightseeing. Many visitors choose to bring along a picnic or packed lunch to enjoy in one of the scenic picnic spots. The hills and walkways around Algar Waterfalls can be quite steep so a sturdy pair of hiking boots or trainers is advisable, as is a towel for the brave people who choose to have a dip in the icy cold pools. There is a museum with a gift shop and a botanical/cactus garden with a vast array of beautiful cacti species.
Top Attractions in Benidorm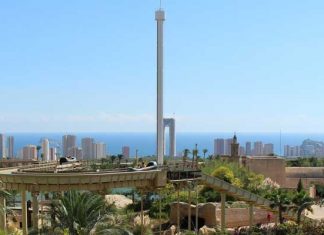 The super cool Terra Mitica Theme Park is one of the leading attractions in the popular tourism city of Benidorm.
Great Days Out
Algar Waterfalls or Les Fonts de l'Algar which it is also commonly called, is a picturesque paradise close to the eastern coast of Spain....
Where is Benidorm?
Benidorm is located in the province Alicante on the Eastern Mediterranean coastline of Spain. The City of Alicante is some 46 km to the south or around a 40 minute drive. Benidorm is part of the Valencian Community like all of the Costa Blanca, the City of Valencia is around 140 km to the north. Please refer to to the map just below for more information and directions to arrive.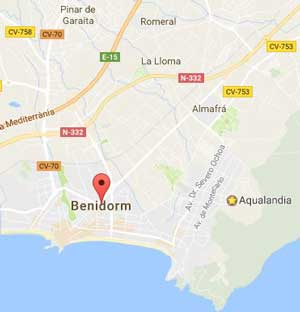 More Things to do in Benidorm